PWM Ranking - The Best Displays for the Eyes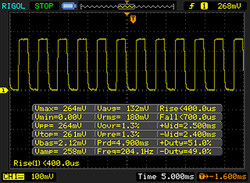 PWM is short for pulse-width modulation and describes a flickering of the background illumination to reduce the luminance. Sensitive users may see this flickering below a certain frequency and get tired eyes or headaches. These problems might not even be obvious. More than 500 Hz are generally not an issue, but there seem to be many users with problems below 250 Hz. Beware, there are even reports from readers that suffer from frequencies above 10k Hz. These users should look at the individual reviews and look out for completly flat lines in our measurements as small brightness changes may lead to sore eyes, headache ... for them.
We use the following table to show the measured frequency of the flickering. Some devices do not use PWM at all, but still showed a measurable brightness flickering during our review (e. g. poor shielding of the power adapter). Those devices are listed here as well. Devices listed with a "0" did not show big brightness fluctuations in our measurements. A detailed analysis and a screenshot of the measurement is available in the linked review.