In our camera comparison of the current Android elite, the Xiaomi Mi 10 Pro presented itself as a very good camera smartphone. However, especially the exposure and the resulting contrast are in need of improvement compared to the high-end competition and still need some final touches. We'll test whether the GCam application with the underlying Google algorithms can fix this by examining photos taken with the Mi 10 Pro during the day and night.
GCam port for the Xiaomi Mi 10 Pro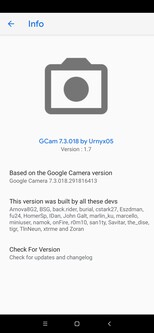 With Xiaomi, the installation of the Google camera can be done in a short time. We have downloaded the GCam APK file with the 7.3 version number from the XDA Developers forum. This makes Google's proprietary image-processing algorithms also available to the Xiaomi Mi 10 Pro.

This includes the HDR+ function, which captures up to eight images before they are merged and processed into one shot. This should benefit the exposure in particular but also help preserve details, reduce noise and increase sharpness.

Daylight photography with the Xiaomi Mi 10 Pro
In daylight, the Mi 10 Pro benefits from the GCam port particularly through better exposure in the presence of difficult lighting conditions and back light. Especially the example photo "No. 1" reveals the deficits of the Xiaomi smartphone's stock camera application. But the other test shots taken with the GCam port also show a nicer contrast and higher dynamic range as well.
Night-time photography with the Xiaomi Mi 10 Pro
In low-light conditions, the port of the Google Camera also achieves very good results to an extent but not always. The book subject shows the potential that the Mi 10 Pro has with very good camera software. Especially the Night Sight night mode lifts the Xiaomi Mi 10 Pro to another qualitative level with this particular subject. The illumination and also the noise level in the photos are visibly worse with Xiaomi's own camera solution. However, other photos show that the stock camera app also has advantages at times in terms of image sharpness.
Verdict - The GCam port offers further camera facets for the Mi 10 Pro
The Google camera is an application built specifically for Google Pixel phones and not designed to run on the Mi 10 Pro. Nevertheless, the results with the GCam port are (for the most part) amazingly good. The weaknesses we found in our camera comparison with the Mi 10 Pro's proprietary camera software (exposure, contrast, noise) often can't be reproduced with Google's image-processing algorithms.
Without the need to root, the GCam port offers a simple and very interesting camera alternative for the Mi 10 Pro.

Especially in low-light conditions, the night mode of the Google camera provides very attractive results in certain situations, which the stock camera application of Xiaomi doesn't even begin to offer.