DPC Latency Ranking - Which notebooks and Windows tablets offer the lowest latency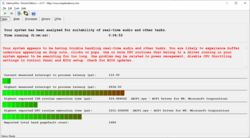 We use the software LatencyMon to find the maximum DPC (Deferred Procedure Call) latencies in a given demanding workload. Large values mean that the buffers can run empty and that audio and video files can be interrupted. Low DPC latencies are important to avoid stuttering and interruptions in the playback of video (e.g. for video cutters) and audio applications (e.g. DJ software, audio creation, etc.).
Our test consists of the following tasks:
Use balanced power plan (device plugged in) and start LatencyMon and the Task Manager.
Open the default browser (Edge on Windows) and open notebookcheck.com. Open five additional tabs of recent articles (including at least one review). When loaded, open the tab with the review and scroll all the way to the bottom of the page.
Then close all tabs and open YouTube with our 4k60 test video: www.youtube.com/watch Pause the playback and set the quality to 2160p60 (4k) and enable sound. Enable "Stats for nerds" and rewind the video. Wait for it to be buffered and open the task manager to see CPU and GPU load. Create a screenshot during the benchmark. Note the average CPU load, GPU load, and the total dropped frames.
When the video finishes, close the browser and start Prime95. Start the In-place large FFTs test and let it run for 10 seconds. Stop the Prime95 load and exit Prime95.
Stop the recording in LatencyMon and save the result: Highest measured interrupt to process latency (in microseconds - μs).

The results are given in µs, which means smaller values are better!