NVIDIA GeForce 930M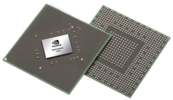 The NVIDIA GeForce 930M (sometimes also called Nvidia GeForce GT 930M) is a (lower) mid-range, DirectX 11-compatible graphics card for laptops unveiled in March 2015. It is based on the last years GeForce 840M. In addition to the "normal" 25 Watt 930M, there is also a low power variant with a TDP of 12 Watt and support for DDR3 and GDDR5. The DDR3 variant should be approximately 10% slower than the 25 Watt version. The performance of the GDDR5 version is still unknown. The shader count for these low power 930M are also unknown. As the LP version is clocked only at 457 MHz + Boost it may feature more shaders (or a high Boost).
Update: The N16S-LP variant (5-12 Watt TDP, Low Power version?) will be available with GDDR5 starting in the first quarter of 2016. Later in 2016, the successor named GeForce 930MX was released that was available with GDDR5.
Architecture
Compared to Kepler, Maxwell has been optimized in several details to increase power efficiency. Smaller Streaming Multiprocessors (SMM) with only 128 ALUs (Kepler: 192) and an optimized scheduler should lead to better utilization of the shaders. Nvidia promises that a Maxwell SMM with 128 ALUs can offer 90 percent of the performance of a Kepler SMX with 192 ALUs. The 930M should feature the full GM108 with 3 SMMs (384 shader cores, 24 TMUs, and 8 ROPs due to the 64-bit interface).
Another optimization is the massively enlarged L2 cache. The larger size can process some of the memory traffic to allow for a relatively narrow memory interface without significantly reducing performance.
Similar to GM107, the GM108 supports DirectX 12 with Feature Level 11_0 only.
Performance
The performance should be a bit below an average GeForce 840M due to the slower core clock. This means that demanding games like Evolve are only playable in lowest settings. Less demanding games like F1 2014 or Fifa 15 on the other hand should run in highest settings. See gaming benchmarks below for more details.
Features
GM108 integrates the sixth generation of the PureVideo HD video engine (VP6), offering a better decoding performance for H.264 and MPEG-2 videos. Of course, VP6 supports all features of previous generations (4K support, PIP, video encoding via NVENC API). Unfortunately, HDMI 2.0 is still not supported.
Power Consumption
The power consumption of the GeForce 930M should be about 33 Watts or less. Therefore, the 930M is best suited for laptops 13 inches in size or larger. The 900M series also supports Optimus to automatically switch between an integrated graphics card and the Nvidia GPU.
GeForce 900M Series

Codename
N16S-GM-B/S, N16S-LP
Architecture
Maxwell
Pipelines
384 - unified
Core Speed
928 - 941 (Boost) MHz
Memory Speed
1800 MHz
Memory Bus Width
64 Bit
Memory Type
DDR3
Max. Amount of Memory
2048 MB
Shared Memory
no
API
DirectX 12 (FL 11_0), Shader 5.0, OpenGL 4.5
Power Consumption
12 / 25 Watt
technology
28 nm
Features
GPU Boost 2.0, Optimus, PhysX, CUDA, GeForce Experience, GameWorks
Date of Announcement
12.03.2015
Link to Manufacturer Page
http://www.geforce.com/hardware/notebook...
Benchmarks
Performance Rating
- 3DMark 11 + Fire Strike + Time Spy