NVIDIA GeForce GT 755M SLI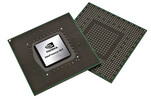 The NVIDIA GeForce GT 755M SLI is a high-end DirectX 11-compatible graphics solution for laptops, consisting of two GeForce GT 755M. Each card has a 28nm GK107 core based on the Kepler architecture. With SLI, each card usually renders a single frame (AFR mode). Therefore, it may suffer from micro stuttering in low fps ranges of 30fps. This happens because of different timespans between two frames (e.g. irregular delays between sequential frames).
Compared to the GeForce 750M, the 755M respectively 755M SLI is combined only with GDDR5 graphics memory and clocked slightly higher.
Architecture
The GK107 Kepler core offers two shader blocks, called SMX, each with 192 shaders for a total of 384 shader cores that are clocked at the same speed as the processor core. Although more shader cores are available in the Kepler architecture as compared to the Fermi design, the Kepler shaders are expected to be up to two times more power efficient. However, due to the missing hot clock of the shader domain, two shaders of a Kepler chip are as fast as one shader of a Fermi chip, even though Fermi shaders are clocked at twice the speed.
PCIe 3.0 is now supported by the mobile Kepler series and GPU Boost 2.0 can automatically overclock the card if the laptop cooling system allows it. This feature is available on any notebook with a graphics card of the 700M series.
Performance
Thanks to the slighly higher clocks, the GT 755M SLI is somewhat faster than the former GT 750M SLI and performs similar to a single GeForce GTX 770M or GTX 680M. Depending on the game, there can be big differences here, depending on how well SLI scales in a particular case. Overall, most current games (as of 2013) can be played fluently in 1080p and (very) high settings.
Features
The feature set includes support for up to 4 active displays. Furthermore, high resolution monitors of up to 3840x2160 pixels can now be connected using DisplayPort 1.2 or HDMI 1.4a if available. HD-Audio codecs, such as Dolby TrueHD and DTS-HD, can be transmitted via bitstream mode through the HDMI port.
The 5th generation PureVideo HD video processor (VP5) (also integrated in the GK107 core) offers hardware decoding of HD videos. Common codecs such as MPEG-1/2, MPEG-4 ASP, H.264 and VC1/WMV9 are fully supported up to 4K resolutions while VC1 and MPEG-4 are supported up to 1080p. Two streams can be decoded in parallel for features such as Picture-in-Picture. Another feature is the inclusion of a dedicated video encoding engine similar to Intel QuickSync that can be accessed via the NVENCI API.
Power Consumption
The power consumption of the GeForce GT 755M SLI doubles compared to a single 755M, reaching about 100 W. As a result, the Nvidia GPU is only suited for larg gaming notebooks.
GeForce GT 700M Series

Codename
N14P-?
Architecture
Kepler
Pipelines
768 - unified
Core Speed
980 MHz
Memory Speed
5400 MHz
Memory Bus Width
2x 128 Bit
Memory Type
GDDR5
Max. Amount of Memory
2x 2048 MB
Shared Memory
no
API
DirectX 11, Shader 5.0
Power Consumption
2x ~50 Watt
Transistor Count
2x 1300 Million
technology
28 nm
Features
GPU Boost 2.0, PhysX, Verde Drivers, CUDA, 3D Vision, 3DTV Play
Notebook Size
large
Date of Announcement
01.11.2013
Benchmarks
Performance Rating
- 3DMark 11 + Fire Strike + Time Spy