NVIDIA Quadro 5000M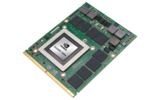 The NVIDIA Quadro 5000M is a professional workstation graphics card based on the Fermi architecture. Therefore, the 5000M likely shares many similarities to the GeForce GTX 480M which offers more CUDA cores. The Quadro is the first mobile GPU that offers ECC RAM and double-precision floating point cores.
The Quadro series also offers certified drivers that are optimized for stability and performance in professional applications like CAD or DCC. OpenGL performance, for example, should be significantly better than GeForce graphics cards of similar specifications.
The shader/CUDA cores can be accessed using DirectX 11 or OpenGL 4.1 for graphics rendering and DirectCompute, OpenCL, AXE and CUDA for general purpose calculations. Due to the new Fermi core, the 5000M should offer higher performance in general purpose calculations compared to its predecessors.
Furthermore, the Quadro 5000M is compatible with Nvidia 3D Vision Pro for stereoscopic viewing.
Similar to the GeForce GTX 480M, the Quadro 5000M is specified at 100 Watt TDP and is therefore usually reserved for large laptops with ample cooling, such as the Clevo D901F.
At the time of arrival (mid 2010), the Quadro 5000M was the fastest professional workstation graphics card for laptops and is the successor to the old G92b-based GeForce FX 3800M. Compared to desktop Quadro cards, the mobile Quadro 5000M offers less shader cores and likely a lower core clock rate as well.
Quadro M Series

Codename
Fermi
Architecture
Fermi
Pipelines
320 - unified
Core Speed
405 MHz
Shader Speed
810 MHz
Memory Speed
1200 MHz
Memory Bus Width
256 Bit
Memory Type
GDDR5
Max. Amount of Memory
2048 MB
Shared Memory
no
API
DirectX 11, Shader 5.0
Power Consumption
100 Watt
Transistor Count
3 Billion
technology
40 nm
Features
OpenGL 4.1, DirectX 11, DirectCompute, OpenCL, CUDA, AXE, Error-Correction-Codes (ECC)-Memory, IEEE-Double-Precision-Floating-Point, PowerMizer 9.0
Notebook Size
large
Date of Announcement
27.07.2010
Link to Manufacturer Page
http://www.nvidia.com/object/product-qua...
Benchmarks
min: 7700 avg: 7767 median:
7766.5 (2%)
max: 7833 Points