NVIDIA GeForce GTX 280M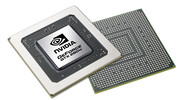 The NVidia GeForce GTX 280M is a high-end graphics card as part of the 200M series and is based on the G92b core (Desktop GeForce 9800 GTX+). Therefore, it is actually more related to the GeForce 9800 GTX+, both performance-wise and architecturally, than to the GTX 280. The chip is produced in 55nm with all 128 pipelines enabled, as opposed to the GT 9800M with only 112 pipelines produced in a 65nm process.
Hybrid Power makes an appearance on the GTX 280M as well, but with much improved performance. Switch times on the graphics card now completes in just a fraction of a second, compared to a full 7 seconds on the 9800M GTX,
As with all DirectX 10 graphics cards, the GeForce GTX 280M renders 3D images using "Unified Shaders". Dedicated pixel and vertex shaders of yesteryear are gone in favor of 128 stream processors running at 1250MHz on the GTX 280M. The stream processors handle all of the workload that would have otherwise been processed by pixel or vertex shaders. VRAM can be up to 1024 MB GDDR3 clocked at either 800MHz (on MXM2 boards) or 950MHz (on MXM3 boards).
Due to the full 128 shader cores, the GTX 280M is about 10-25% faster than the older 9800M GTX and slightly faster than the 260M. Compared to the performance of the Mobility Radeon HD 4870, the GTX 280M is about equal in synthetic benchmarks, if not slightly lower. The Nvidia card, however, has proven to be slightly faster in games, so the GTX 280M can therefore be rated more highly in terms of real-life performance. Specifically, games with PhysX support (e.g., Mirrors Edge) can have significant performance advantages if PhysX effects are enabled.
Another feature of the GeForce GTX 280M is the integrated PureVideo HD video processor. The card is able to assist the CPU in decoding of H.264-, VC-1-, MPEG2- and WMV9 video material.
HybridPower is a Windows Vista-only technique used to switch between the integrated (only with Nvidia chipset) and dedicated graphics cores for power-saving purposes. Eventually, Nvidia will have its future chips switch automatically between dedicated or integrated through drivers (now known as Optimus Technology). GeForceBoost is not supported with this card, as there would be no performance gain from combining the integrated GPU with the discrete video card.
A high power consumption of up to 75 Watts (including the VRAM and MXM board) means that only large notebooks with powerful (and possibly loud) cooling systems can run the GTX 280M.
The newer GTX 285M is based on the same core as the GTX 280M, but with only slightly altered clock rates. As a result, the performance of the GeForce GTX285M is very similar to the GTX 280M.
Compared with Desktop graphic cards, the performance can be considered somewhere in between the 9800 GT and the 9800 GTX, the latter of which has considerably higher clock rates at 675/1675/1100MHz.
GeForce GTX 200M Series

Codename
N10E-GTX
Architecture
G9x
Pipelines
128 - unified
Core Speed
585 MHz
Shader Speed
1463 MHz
Memory Speed
950 MHz
Memory Bus Width
256 Bit
Memory Type
GDDR3
Max. Amount of Memory
1024 MB
Shared Memory
no
API
DirectX 10, Shader 4.0
Transistor Count
754 Million
technology
55 nm
Features
HybridPower, PureVideo HD, CUDA, PhysX ready
Notebook Size
large
Date of Announcement
02.03.2009
Information
MXM 3
Link to Manufacturer Page
http://www.nvidia.com/object/product_gef...
Benchmarks
min: 5314 avg: 6328 median:
6672 (2%)
max: 6779 Points