NVIDIA GeForce 9800M GTX SLI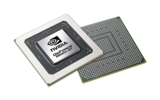 The Nvidia GeForce 9800M GTX SLI consists of two GeForce 9800M GTX cards in SLI mode. Each 9800M GTX is based on the G94 core with 112 shader processors. The cores themselves are produced in a 65nm fabrication process. The power consumption of the SLI combo is twice as large as a single card (2x75W). As a result, the 9800M GTX SLI is only suited for larger laptops with good cooling solutions.


The SLI version of the 9800M GTX is about 0-40% faster than a single 9800M GTX (depending on the SLI support of the game and the driver version). In some games, there may even be a slight decrease in performance. Futhermore, some games may suffer from noticeable micro stuttering in the 30 FPS range due to frame irregularities inherent to dual GPU systems. Consequently, users may need higher FPS for a fluent gameplay experience. Still, DirectX 10 games should run fluently in high detail settings and resolutions (see gaming section below).
Similar to all other cards with native DirectX 10 capabilities, the GeForce GTX 285M renders 3D images using "Unified Shaders". In other words, there are no longer any more dedicated pixel shaders or vertex shaders. Instead, new stream processors (2x112 of them in the 9800M SLI) now process most of the heavy graphics loading that would have otherwise been done by dedicated pixel and vertex shaders. In fact, the shader units are clocked higher (1250 MHz) than the core chip itself.
The GeForce 9000 series also takes advantage of the integrated PureVideo HD video processor. It is thus able to assist the CPU in decoding H.264-, VC-1-, MPEG2- and WMV9 video material.
In conjunction with the Nvidia 9100M G integrated graphics, the 9800M GTX supports Hybrid-SLI (HybridPower). HybridPower is an Nvidia power-saving technology for Windows Vista used for switching between integrated and dedicated graphics cards. In the future, Nvidia wants this switch to occur automatically with drivers (now known as Optimus). GeForceBoost is not supported with the 9800M SLI as there would be no performance gain in combining the integrated GPU with the dedicated video card.
Compared to desktop graphics cards, the 9800M GTX SLI should be a bit slower than the GeForce 8800 GT in SLI mode, partly due to the higher memory clock rate of the latter.
GeForce 9000M Series

| | | |
| --- | --- | --- |
| GeForce 9800M GTX SLI | 224 @ 0.5 GHz | 256 Bit @ 800 MHz |
| GeForce 9650M GS | 32 @ 0.63 GHz | 128 Bit @ 800 MHz |

Codename
NB9E-GTX
Architecture
G9x
Pipelines
224 - unified
Core Speed
500 MHz
Shader Speed
1250 MHz
Memory Speed
800 MHz
Memory Bus Width
256 Bit
Memory Type
GDDR3
Max. Amount of Memory
1024 MB
Shared Memory
no
API
DirectX 10, Shader 4.0
Power Consumption
150 Watt
Transistor Count
3 Billion
technology
65 nm
Features
PureVideo HD, CUDA, PhysX-ready, SLI
Notebook Size
large
Date of Announcement
15.07.2008
Information
2xMXM 3
Link to Manufacturer Page
http://www.nvidia.com/object/geforce_980...
Benchmarks
min: 7946 avg: 8193 median:
8193 (2%)
max: 8440 Points