NVIDIA GeForce GT 330M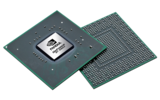 The Nvidia GeForce GT 330M is the successor of the GT 230M and technically a faster clocked GT 240M (but it should still maintain the power envelope of the GT 230M as the naming suggests). Therefore, the GT330M is a mid-range laptop graphics card that offers DirectX 10.1 effects.
The performance of the GT 330M is similar to the GeForce GT 240M and therefore located in the range of the Mobility Radeon HD 4650. The card supports DirectX 10.1 and all the features of the GT 230M / 240M (as it is based on the same GT216 core). The modern ATI Radeon HD 5650 offers DirectX 11 effects and performs better.
Modern and demanding DirectX 10 and 11 games (like Crysis or Risen) can only be played fluently with medium detail settings and resolution settings. Less demanding games like Sims 3 run in high details and resolutions. See the gaming list below for detailed benchmarks.
The 48 shader cores of the GT216 are based on the desktop GTX 200 architecture and are therefore a bit improved compared to the 48 cores of the GeForce 9700M GTX. According to Nvidia, the micro architecture was improved regarding battery runtime and performance. The stream processors / shaders are 1-dimensional (1D) and can therefore not directly compared to the 5D shaders of current AMD / ATI cards like the Mobility Radeon HD 5650.
To use the calculation performance of the GeForce GT 330M for other applications, the card supports CUDA, OpenCL, and Direct Compute. For example encoding videos using the stream processors is considerably faster than using a fast CPU.
The GT330M supports the hardware decoding of HD videos using the integrated PureVideo HD engine. The integrated VP4 video processor is able to fully decode H.264, VC-1, MPEG-2, and MPEG-4 ASP (e.g., DivX, xVID). Hardware decoding of MPEG-1 encoded videos is not supported, but this can be handled by every CPU without high load. In conjunction with an Core i5-520M, the GT 330M decoded H.264 with 1-6%, VC1 in 5-10%, and WMV with 3-9% CPU load (1080p over HDMI on a Sony Vaio Z11).
As with the GT 230M, the performance depends on the used graphics memory. With slow DDR2, the card can be up to 20% slower than with faster memory. Usually the GT 330M is paired with cheap and relatively fast DDR3 memory. GDDR3 would be a bit faster. GDDR5 is not supported according to Nvidia.
A low power version of the GT 330M is also available for laptop manufacturers featuring a minimal slower clock rate and less power consumption (Codename N11P-LP).
GeForce GT 300M Series

Codename
N11P-GE1
Architecture
GT2xx
Pipelines
48 - unified
Core Speed
575 MHz
Shader Speed
1265 MHz
Memory Speed
1066 MHz
Memory Bus Width
128 Bit
Memory Type
GDDR2, GDDR3, DDR3
Max. Amount of Memory
1024 MB
Shared Memory
no
API
DirectX 10.1, Shader 4.1
Transistor Count
486 Million
technology
40 nm
Features
DirectX Compute Support (Windows 7), CUDA, OpenCL, HybridPower, PhysX
Notebook Size
medium sized
Date of Announcement
10.01.2010
Information
182 Gigaflops calculation power
Link to Manufacturer Page
www.nvidia.com
Benchmarks
min: 2159 avg: 2496 median:
2657.5 (1%)
max: 2800 Points