NVIDIA GeForce Go 7950 GTX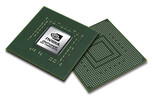 The NVIDIA GeForce Go 7950 GTX is top of the mobile graphic cards line from NVIDIA (of the 7000 series) and successor of the 7900 GTX graphics card. It enables the user to play all games from 2006 fluently in the highest resolutions and options. As a consequence, the heat is correspondingly high. Therefore it can be used only in DTR laptops (17"). At moment, there is nothing better for gamers (except the SLI version with 2 cards).
The performance can be compared partially even with the Desktop 7950 GT video cards (partially a bit better, according NVIDIA). Therefore, the Geforce Go 7950 GTX is able to display actual games like F.E.A.R., Company of Heroes, or Call of Duty 2 fluently in high details and high resolutions.
The chip also features the PureVideo Technology but has less features as the PureVideo engine in the current 8600M GT chip. > Comparison of PureVideo features
GeForce Go 7900 Series

Codename
G71M
Architecture
G7x
Pipelines
24 / 8 Pixel- / Vertexshader
Core Speed
575 MHz
Memory Speed
700 MHz
Memory Bus Width
256 Bit
Memory Type
GDDR3
Max. Amount of Memory
512 MB
Shared Memory
no
API
DirectX 9c, Shader 3.0
Power Consumption
45 Watt
Transistor Count
278 Million
technology
90 nm
Features
HDR, Intellisample 4.0, UltraShadow II, PureVideo, CineFX 4.0, PowerMizer 6.0, Transparency Antialiasing
Notebook Size
large
Date of Announcement
12.10.2006
Information
90nm, 278 Mio transistors, MXM-Module, Drivers are available at nvidia.com
Link to Manufacturer Page
http://www.nvidia.com/page/go_7800gtx.html
Benchmarks
3DMark 2001SE - 3DMark 2001 - Standard