NVIDIA GeForce Go 7900 GS SLI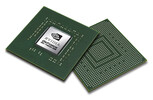 Two NVIDIA GeForce Go 7900 GS graphics cards are bounded by SLI. This shows only in SLI supported games a clear performance advantage and makes it partially faster than a GTX version. The smaller version of the 7900 GTX with less shader- and vertex-pipelines and according data sheet less current consumption. It is only useful for big laptops, because of the high current consumption of each graphic card.
Current games like Far Cry, Splinter Cell - Chaos Theory, Oblivion, Call of Duty 2 or Half Life 2 - Lost Coast can be played with high details and resolutions without any problem. Antialiasing and anisotrope filter can be set in all games except Oblivion (with >30fps).
List of SLI supported games: SLIZone.com
The chip also features the PureVideo Technology but has less features as the PureVideo engine in the current 8600M GT chip. > Comparison of PureVideo features
GeForce Go 7900 Series

Codename
G71M
Architecture
G7x
Pipelines
40 / 14 Pixel- / Vertexshader
Core Speed
375 MHz
Memory Speed
500 MHz
Memory Bus Width
256 Bit
Memory Type
GDDR3
Max. Amount of Memory
1024 MB
Shared Memory
no
API
DirectX 9c, Shader 3.0
Power Consumption
40 Watt
Transistor Count
556 Million
technology
90 nm
Features
90nm
Notebook Size
large
Date of Announcement
01.06.2006
Information
SLI = 2 Grafikkarten im Verbund, 90nm, 2.278 Mio Transistoren, MXM-Modul
Link to Manufacturer Page
http://www.nvidia.de/page/go_7800gtx.html
Benchmarks
3DMark 2001SE - 3DMark 2001 - Standard
min: 24400 avg: 24456 median:
24456 (25%)
max: 24512 Points