AMD Radeon Pro 450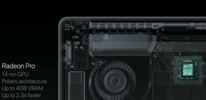 The AMD Radeon Pro 450 is mobile graphics card for laptops that can be found in the entry-level model of the Apple MacBook Pro Retina 15 Late 2016. It is based on the small Polaris 11 chip which is manufactured in 14 nm FinFET at Globalfoundries. Compared to the similar Radeon RX 460 (see for benchmarks), the Pro 450 features only 640 shaders (compared to the 896) and achieves a peak performance of 1 TFLOPS (versus the 2.2 of the RX 460). The Pro 455 is 30% faster with 1.3 TFLOPS and the Pro 460 86% faster (peak performance).
The graphics performance in our first tests (e.g. 3DMark 11) is slightly above a GeForce GTX 950M. A major drawback is the small VRAM size of only 2 GB GDDR5. Furthermore, Apple and AMD don't provide driver updates for Windows using Bootcamp. The only option is to use modified drivers from BootcampDrivers.com.
The features of the Radeon Pro 450 are identical to the faster RX 460 and all other Polaris chips. See more details on the Polaris architecture here. According to AMD the Pro 450 supports DisplayPort 1.2 (altough the Polaris chips support 1.4 read) and HDMI 2.0 via USB-C adapter.
The power envelope of the faster Radeon Pro 460 is rated at 35 Watt according to the AMD blog post. Due to the slower specs, the Radeon Pro 455 should use slightly less.
Manufacturer
AMD
Radeon RX 400M Series
Codename
Polaris 11
Architecture
Polaris
Pipelines
640 - unified
Core Speed *
800 MHz
Memory Speed *
5080 MHz
Memory Bus Width
128 Bit
Memory Type
GDDR5
Max. Amount of Memory
2048 MB
Shared Memory
no

DirectX
DirectX 12
Power Consumption
75 Watt
Transistors
3000 Million
technology
14 nm
Features
DisplayPort 1.3 HBR / 1.4 HDR Ready, HDMI 2.0, AMD FreeSync
Notebook Size
large
Date of Announcement
27.10.2016
* The specified clock rates are only guidelines for the manufacturer and can be altered by them.
Benchmarks
Power Consumption
- The Witcher 3 Power Consumption (external Monitor) ultra 1920x1080

100%
min: 44.5 avg: 44.5 (12%) median:
44.5 (12%)
max: 44.5 Watt