AMD Radeon R2 (Mullins/Beema)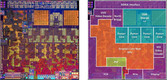 The AMD Radeon R2 is an integrated DirectX 12 graphics card found in some AMD APUs (for example, E1-6010, E2-6110, and E1 Micro-6200T). It offers 128 shader cores across two Compute Units and is based on the GCN architecture. Clock speeds can be up to 300 MHz on a Mullins APU or 500 MHz on a Beema APU. The GPU does not have dedicated VRAM and will access main system memory (depending on the APU: single-channel DDR3L-1066/1333/1600).
Using its UVD (Unified Video Decoder), the GPU can support the CPU when decoding videos up to 4K. In addition, the chip integrates a specialized video encoder called VCE. Video streams can output via VGA, DVI, HDMI 1.4a and DisplayPort 1.2 to up to two external monitors.
The performance of the Radeon R2 varies greatly between different APUs as there is a very wide range of clock speeds. While the fastest models may reach speeds similar to a Radeon HD 8330, slower versions should offer a performance closer to a Radeon HD 8210. Typically, only older and very undemanding games like World of Warcraft will play fluently at low settings.
Manufacturer
AMD
Radeon R Series
Codename
Beema/Mullins
Architecture
GCN 1.1
Pipelines
128 - unified
Core Speed *
300 - 500 (Boost) MHz
Memory Bus Width
64 Bit
Shared Memory
yes

DirectX
DirectX 12 (FL 12_0), Shader 5.0
technology
28 nm
Date of Announcement
29.04.2014
* The specified clock rates are only guidelines for the manufacturer and can be altered by them.
CPU
GPU Base Speed
GPU Boost / Turbo
AMD E2-6110
4 x 1500 MHz, 15 W
? MHz
500 MHz
AMD E1 Micro-6200T
2 x 1000 MHz, 3.95 W
? MHz
300 MHz
AMD E1-6010
2 x 1350 MHz, 10 W
260 MHz
350 MHz
min. - max.
260 - ? MHz
300 - 500 MHz
Benchmarks
GFXBench 3.0
- Manhattan Offscreen OGL off screen
0%

100%
min: 14 avg: 14 (3%) median:
14 (3%)
max: 14 fps
...