NVIDIA GeForce GTX 980 SLI (Laptop)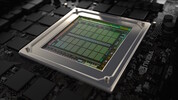 The Nvidia GeForce GTX 980 SLI is a high-end DirectX 12-compatible graphics solution for laptops, consisting of two GeForce GTX 980 cards. Each card has a 28 nm GM204 GPU based on the Maxwell architecture with similar specifications as the desktop GeForce GTX 980. The clocks for the SLI-setup are usually identical to a single GTX 980.
With SLI, each card renders a single frame (AFR mode). Therefore, it may suffer from micro-stuttering in low fps ranges of 30 fps. This happens because of different time-spans between two frames (e.g., irregular delays between sequential frames).
The performance is on a level with the two desktop GTX 980 cards in SLI. Due to the different cooling solutions, the long-term performance may be slightly lower compared to a well cooled desktop, but Nvidia assures there will only be small degrades in performance. As with all SLI combinations, the performance depends on the driver support for the used benchmark and game. In our tests with an MSI GT80S, the 980 SLI was the fastest graphics solution for laptops. The 980M SLI was 17% slower, a single 980 26% slower. Therefore, the 980 SLI for laptops offers enough performance for all demanding games from 2015 in high details and 4K resolution.
The core features are also the same as the desktop 980, so expect support for DirectX 12 (FL 12_1). There will be no support for the new H.265 video engine as found on the desktop GTX 950.
The power consumption of a single card is a lot higher than other mobile graphics cards like the GeForce GTX 980M (100 Watt TDP). According to Nvidia, the TDP of the reference design is still 165 Watt like in the desktop version. So, the TDP of the SLI combination may be as high as 330 Watt. Therefore, only big laptops with efficient cooling methods can house the GeForce GTX980 for laptops.
GeForce GTX 900 Series

Codename
N16E-GXX SLI
Architecture
Maxwell
Pipelines
4096 - unified
Core Speed
1126 - 1228 (Boost) MHz
Memory Speed
3500 MHz
Memory Bus Width
256 Bit
Memory Type
GDDR5
Max. Amount of Memory
2x 8192 MB
Shared Memory
no
API
DirectX 12_1, OpenGL 4.5
Power Consumption
330 Watt
Transistor Count
10.4 Billion
technology
28 nm
Features
CUDA, 3D Vision, PhysX, GeForce Experience, Surround, GameStream, GPU Boost 2.0, Adaptive Vertical Sync, G-SYNC, SLI
Notebook Size
large
Date of Announcement
22.09.2015
Benchmarks
Performance Rating
- 3DMark 11 + Fire Strike + Time Spy