AMD E2-6110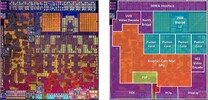 The AMD E2-6110 is a mobile quad-core SoC (codenamed "Beema") for entry-level devices and subnotebooks, which has been presented in April 2014. In addition to 4 CPU cores clocked at up to 1.5 GHz (no boost), the 28 nanometer chip also integrates a Radeon R2 GPU, a single-channel DDR3L-1600 memory controller and the Southbridge with various I/O-ports.
Architecture
Both Beema (for notebooks) and Mullins (for tablets and compact subnotebooks, same die) are based on AMD's Puma+ architecture, which is the successor to the previous Jaguar design (Kabini and Temash APUs). Neither the performance per clock nor the feature set (including SSE up to 4.2, AVX and AES) have been modified. However, AMD managed to reduce the leakage current, enabling significantly higher (boost) clock speeds. This leads to a more responsive system and better overall performance. As its predecessor, the chip is manufactured in 28 nm.
Performance
According to the clock rate, the APU should be as fast as the former A4-5000 (15 W, 1.5 GHz). Overall, the E2-6110 should be sufficient for daily workloads like Office, Internet browsing and multimedia.
Graphics
The SoC integrates a Radeon R2 GPU with 128 shaders, which is based on the GCN architecture and clocked at up to 500 MHz. On average, we expect the graphics performance to be similar to Intel's HD Graphics 4000 (ULV versions) or a Radeon HD 8330. Current games (as of 2014) are thus hardly playable even in low settings, but some older and less demanding titels should run flawless.
Power Consumption
The power consumption of the entire SoC is rated at 15 watts. Thus, the APU is suitable for smaller subnotebooks.
Series
AMD E-Series
Codename
Beema

Series: E-Series Beema

Clock Rate
1500 MHz
Level 1 Cache
256 KB
Level 2 Cache
2 MB
Number of Cores / Threads
4 / 4
Power Consumption (TDP = Thermal Design Power)
15 Watt
Manufacturing Technology
28 nm
Features
SSE (1, 2, 3, 3S, 4.1, 4.2, 4A), x86-64, AES, AVX, Single-Channel DDR3L-1600
GPU
AMD Radeon R2 (Mullins/Beema/Carrizo-L) (? - 500 MHz)
64 Bit
64 Bit support
Architecture
x86
Announcement Date
04/29/2014
Benchmarks
- Range of benchmark values for this graphics card

- Average benchmark values for this graphics card
* Smaller numbers mean a higher performance
v1.25
log 28. 21:38:53
#0 no ids found in url (should be separated by "_") +0s ... 0s
#1 not redirecting to Ajax server +0s ... 0s
#2 did not recreate cache, as it is less than 5 days old! Created at Fri, 25 Aug 2023 17:29:24 +0200 +0.001s ... 0.001s
#3 composed specs +0.014s ... 0.016s
#4 did output specs +0s ... 0.016s
#5 getting avg benchmarks for device 5909 +0.003s ... 0.018s
#6 got single benchmarks 5909 +0.005s ... 0.024s
#7 got avg benchmarks for devices +0s ... 0.024s
#8 min, max, avg, median took s +0s ... 0.024s
#9 return log +0.025s ... 0.049s
No reviews found for this CPU (yet).