NVIDIA GeForce GTX 1660 Ti Mobile vs NVIDIA GeForce GTX 1060 Mobile vs NVIDIA GeForce GTX 1660 Super (Desktop)
NVIDIA GeForce GTX 1660 Ti Mobile
► remove from comparison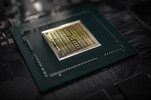 The Nvidia GeForce GTX 1660 Ti for laptops is a mobile graphics card that is based on the Turing architecture (TU116 chip). Compared to the faster RTX 2000 GPUs (e.g. RTX 2060), the 1660Ti integrates no Raytracing or Tensor cores. The performance is similar to the old GTX 1070 (laptop) but at a reduced TGP of 80 Watt (versus 115 Watt). Compared to the desktop GTX 1660 Ti, the clock speeds are reduced (3% lower base, 10% lower boost).
In April 2020 Nvidia refreshed the GTX 1660 Ti with the new codename N18E-G0-A1 with similar specs and pin compatible to the refreshed RTX chips (e.g., RTX 2070 Super Mobile).
The Turing generation did not only introduce raytracing for the RTX cards, but also optimized the architecture of the cores and caches. According to Nvidia the CUDA cores offer now a concurrent execution of floating point and integer operations for increased performance in compute-heavy workloads of modern games. Furthermore, the caches were reworked (new unified memory architecture with twice the cache compared to Pascal). This leads to up to 50% more instructions per clock and a 40% more power efficient usage compared to Pascal.
The power consumption of the 1660Ti for latops is specified at 80 Watt TGP (Total Graphics Power) by Nvidia and therefore 20 Watt higher than the efficient (and slower) Max-Q variant of the 1660 Ti. The TU116 chip is manufactured in 12nm FFN at TSMC.
NVIDIA GeForce GTX 1060 Mobile
► remove from comparison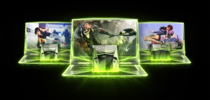 The mobile Nvidia GeForce GTX 1060 is a graphics card for high end laptops. It is based on the Pascal architecture and manufactured in 16 nm FinFET at TSMC. The GPU is using the smaller GP106 chip. Compared to the desktop version of the GTX 1060, the laptop version offers the same amount of shaders but slightly lower clock rates. The TDP is slightly less than the old GTX 970M (predecessor).
For thin and light laptops Nvidia offer a Max-Q called version of the GTX 1060 with lower TDP and also significantly lower performance. Sadly this variant im sold with the same GTX 1060 name, making it hard to judge the performance.
The performance of the mobile GTX 1060 is a few percent below a reference GTX 1060 desktop card. In our benchmark so far (no max-Q version) the mobile GTX 1060 was somewhere between -1 and -16% slower than a desktop variant. A comprehensive review of the dekstop GeForce GTX 1060 Founders Edition with 6 GB GDDR5 can be found here. Therefore, the card is most suited for Full HD or WQHD gaming in high to maximum details (see benchmarks below).
The GP106 chip is produced in 16nm FinFET at TSMC and offers a range of new features, like DisplayPort 1.4 (ready), HDMI 2.0b, HDR, Simultaneous Multi-Projection (SMP) and improved H.265 video de- and encoding (PlayReady 3.0). A list of improvements and features can be found in our article on the Pascal architecture.
The power consumption is specified with a TGP of 80 Watt and therefore slightly below the old GTX 970M. Since summer 2017 a low power variant (Max-Q) is available for thin and light laptops with reduced performance and a lower TGP of 60 - 70 Watt.
NVIDIA GeForce GTX 1660 Super (Desktop)
► remove from comparison

The Nvidia GeForce GTX 1660 Super is a powerful, mid-tier, Turing-based, desktop GPU. The GTX 1660 Super is based on the TU116 chip with 1,408 shader units, 48 ROPs, 88 TMUs and a 192-bit-wide memory bus (GDDR6 clocked at 7 GHz, effectively 14 GHz, bandwidth: up to 336 GB/s).
The TU116 chip and other Turing-based GPUs are produced using the 12-nm manufacturing process. However, the GeForce GTX 1660 does not offer the latest features such as DLSS (Deep Learning Super Sampling) and Real Time Ray Tracing. Nevertheless, there are some architectural improvements when it comes to floating point and integer performance. These operations can now be carried out simultaneously. Other notable features include Adaptive Shading, unified cache, DisplayPort 1.4, HDMI 2.0b, HDR, Simultaneous Multi-Projection (SMP) as well as H.265 encoding and decoding (PlayReady 3.0).
At Full HD resolution, the GeForce GTX 1660 Super performance lies between a GeForce GTX 1660 / GTX 1060 and a GTX 1660 Ti / 1070. Therefore, it is most suited for demanding games of 2019 in full HD resolution and maximum detail settings, or QHD at slightly reduced settings.
The energy consumption of the GeForce GTX 1660 Super amounts to 125 watts and therefore 5 Watt higher than the GTX 1060 or GTX 1660 Ti.
| | | | |
| --- | --- | --- | --- |
| | NVIDIA GeForce GTX 1660 Ti Mobile | NVIDIA GeForce GTX 1060 Mobile | NVIDIA GeForce GTX 1660 Super (Desktop) |
| GeForce GTX 1600 Series | | | |
| Codename | N18E-G0 | N17E-G1 | Turing TU116 |
| Architecture | Turing | Pascal | Turing |
| Pipelines | 1536 - unified | 1280 - unified | 1408 - unified |
| Core Speed | 1455 - 1590 (Boost) MHz | 1404 - 1670 (Boost) MHz | 1530 - 1785 (Boost) MHz |
| Memory Speed | 12000 MHz | 8000 effective = 2002 MHz | 14000 MHz |
| Memory Bus Width | 192 Bit | 192 Bit | 192 Bit |
| Memory Type | GDDR6 | GDDR5 | GDDR6 |
| Max. Amount of Memory | 6 GB | 6 GB | 6 GB |
| Shared Memory | no | no | no |
| API | DirectX 12_1, OpenGL 4.6 | DirectX 12_1, OpenGL 4.5 | DirectX 12_1, Shader 6.4, OpenGL 4.6 |
| Power Consumption | 80 Watt | 80 Watt | 125 Watt |
| Transistors | 6.6 Billion | 4.4 Billion | 6.6 Billion |
| technology | 12 nm | 16 nm | 12 nm |
| Notebook Size | medium sized | large | |
| Date of Announcement | 23.04.2019 | 18.08.2016 | 29.10.2019 |
| Link to Manufacturer Page | https://www.nvidia.com/en-gb/geforce/gam... | http://www.nvidia.de/graphics-cards/gefo... | |
| TMUs | | 80 | |
| ROPs | | 48 | |
| Memory Bandwidth | | 192 GB/s | |
| PCIe | | 3.0 | |
| Features | | Multi-Projection, VR Ready, G-SYNC, Vulkan, Multi Monitor | |
Benchmarks
Performance Rating
- 3DMark 11 + Fire Strike + Time Spy
- GeForce GTX 1660 Ti Mobile