NVIDIA GeForce 9200M GS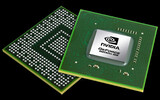 The Nvidia GeForce 9200M GS is a slower clocked 9300M GS chip and therefore also DirectX 10 capable.
Compared to the old 8400M series or the 9300M G, the 9200M GS features only 8 unified shaders and is produced in 65nm. Furthermore, it integrates the new VP3 video processor (8400M, 9300M G had VP2) with more video features and better hd-video decoding support.
In conjunction with the Nvidia 9100M G integrated graphics, the 9200M GS supports Hybrid-SLI (HybridPower and GeForceBoost). HybridPower is a technique to choose between the integrated and dedicated graphics core, if performance or battery runtime is needed. This works only in Windows Vista. Up to now the user has to use a tool to switch between the GPUs. Later Nvidia wants to switch automatically in the drivers. GeForceBoost uses the integrated graphics core of the 9100M G and the dedicated of the 9200M in SLI mode to achieve better frame rates.
As the 8400M G, the 9200M GS features 8 stream processors that do the work of the former dedicated pixel- and vertex-shaders. The unified shaders of Nvidia are 1-dimensional (AMD has 5-dimensional shaders which leads to the higher number of shaders).
Compared to the old 8400M G, the 9200M GS has a higher core speed and is therefore faster. Modern DirectX 10 games will run only in low details and resolutions. Older DirectX 9 games, like HalfLife 2 or Far Cry run fluently in medium to high details.
Compared to desktop graphics cards, the upcoming 9300 GE / GS should be similar, as it will also stem from the G98 core. Still the desktop counterparts are usually higher clocked and therefore faster.
| | |
| --- | --- |
| Codename | NB9M-GE |
| Pipelines | 8 - unified |
| Core Speed | 550 MHz |
| Shader Speed | 1300 MHz |
| Memory Speed | 700 MHz |
| Memory Bus Width | 64 Bit |
| Memory Type | GDDR2, GDDR3 |
| Max. Amount of Memory | 256 MB |
| Shared Memory | no |
| API | DirectX 10, Shader 4.0 |
| Power Consumption | 13 Watt |
| technology | 65 nm |
| Date of Announcement | 03.06.2008 |
| Link to Manufacturer Page | http://www.nvidia.com/object/geforce_920... |
Benchmarks
min: 326 avg: 372.5 median:
372.5 (0%)
max: 419 Points