NVIDIA GeForce GTX 1050 Mobile vs NVIDIA GeForce GTX 1080 Mobile vs NVIDIA GeForce GTX 1070 Ti (Desktop)
NVIDIA GeForce GTX 1050 Mobile
► remove

The Nvidia GTX 1050 is a mainstream GPU based on the Pascal architecture and was announced in January 2017. Contrary to the faster models, the GTX 1050 uses the GP107 chip, which is manufactured in a 14 nm process at Samsung.
The notebook version differs a bit in terms of clocks, but is equipped with 640 shader units, just like the desktop model. It is shipped with up to 4 GB GDDR5-VRAM attached via 128-bit interface and a 7 Gbps memory data rate (112 GB/s).
Features
The GP107 chip is manufactured in a 14 nm FinFET process at Samsung and offers a number of new features, including support for DisplayPort 1.4 (ready), HDMI 2.0b, HDR, Simultaneous Multi-Projection (SMP) as well as improved H.265 video de- and encoding (PlayReady 3.0). A full list of improvements and the new Pascal desktop GPUs is available in our dedicated Pascal architecture article.
Performance
The performance of the GeForce GTX 1050 can vary quite a lot depending on the cooling performance of the laptop. It can be just as fast as the desktop model under ideal conditions, but the notebook model is usually a bit slower. The GeForce GTX 960M is beaten by around 30%, so the GTX 1050 is comparable to a GTX 965M in general. It is therefore an upper mainstream GPU. Games from 2016 can be played in high settings an the Full HD resolution.
Power Consumption
The power consumption of the GeForce GTX 1050 is roughly on par with the old GTX 960M, which would mean around 40-50 Watts and (probably due to better selection and optimized parts) therefore much lower compared to the desktop counterpart. This means the graphics card will usually be used for powerful multimedia notebooks and entry-level gaming systems with at least 15.4 inches.
NVIDIA GeForce GTX 1080 Mobile
► remove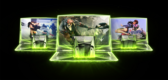 The Nvidia GeForce GTX 1080 for laptops (formerly known as GTX 1080M) is the mobile counterpart of the desktop GeForce GTX 1080. It uses the same GP104 chip and was officially announced at 16. August. The performance should be around +-10% of a non overclocked desktop GTX 1080. The amount of shaders and other technical specifications should be identical.
The mobile GTX1080 is the successor to the GeForce GTX 980 for Laptops and offers a significantly higher performance at the same TDP.
For thin and light laptops Nvidia offer a Max-Q called version of the GTX 1080 with lower TDP and also significantly lower performance. Sadly this variant im sold with the same GTX 1080 name, making it hard to judge the performance.
The performance depends on the used thermal headroom, processor and game. In our benchmarks the mobile GTX 1080 was between 0 to 10 percent slower than the desktop GTX 1080. Therefore, the card also allows gaming in 4k for modern and demanding games of 2017. However, the performance depends on the cooling and TDP settings in each laptop. E.g. the MSI GT73VR (200 W TDP) is much faster than the 1080 in the Razer Blade Pro (<=150 W).
The GP104 chip is manufactured in 16nm FinFET process at TSMC and offers a range of new features. DisplayPort 1.4 (ready), HDMI 2.0b, HDR, Simultaneous Multi-Projection (SMP), improved H.265 video en- and decoders (for PlayReady 3.0) are only some of the improvements. See our detailed Pascal architecture article for more details.
Due to the high TDP, the mobile GTX 1080 is only suited for large laptops with high performance cooling solutions. The power consumption is ranging from 150 to 200 Watt (according to Nvidia, up to 220 W in the Asus G701VIK, G800, GX800). A low power version (Max-Q) is available beginning summer 2017 with a reduced TGP of 90 - 110 Watt (at a reduced performance).
NVIDIA GeForce GTX 1070 Ti (Desktop)
► remove

The Nvidia GeForce GTX 1070 Ti is the second fastest Pascal based graphics card in November 2017. It is a high-end desktop graphics card based on a cut down GP104 chip as the GTX 1080 and manufactured in 16 nm FinFET at TSMC. Compared to the GTX 1080, it uses the more available GDDR5 graphics memory, and compared to the GTX 1070 it offers more shaders (2432 versus 1920). More details on the Pascal architecture including all features and comparisons to Maxwell, can be found here.
The performance of the GTX 1070 Ti was in our tests right between the GTX 1070 and GTX 1080. However, the powerefficiency was worse than the GTX 1070 and near the GTX 1080. Nvidia also specifies the 1070 Ti and 1080 at 180W.
NVIDIA GeForce GTX 1050 Mobile

NVIDIA GeForce GTX 1080 Mobile

NVIDIA GeForce GTX 1070 Ti (Desktop)

Manufacturer
NVIDIA
NVIDIA
NVIDIA
GeForce GTX 1000 Series
Codename
N17P-G0
N17E-G3
Pascal GP104
Architecture
Pascal
Pascal
Pascal
640 -
2560 -
2432 -
Core
1354 - 1493 (Boost) MHz
1566 - 1733 (Boost) MHz
1607 - 1683 (Boost) MHz
Memory
7000 MHz
10000 MHz
8000 MHz
Bus
128 Bit
256 Bit
256 Bit
Memory
GDDR5
GDDR5X
GDDR5
Max. Memory
4096 MB
8192 MB
8192 MB
no
no
no
DirectX
DirectX 12_1
DirectX 12_1
DirectX 12_1
Technology
14 nm
16 nm
16 nm
Features
Multi-Projection, G-SYNC, Vulkan, Multi Monitor
Multi-Projection, VR Ready, G-SYNC, Vulkan, Multi Monitor
Multi-Projection, VR Ready, G-SYNC, Vulkan, Multi Monitor
Size
Introduced
03.01.2017
16.08.2016
02.11.2017
Transistors
7200 Million
7200 Million
Manufacturer
http://www.geforce.com/hardware/10series...
https://www.nvidia.at/graphics-cards/gef...
Performance Rating
- 3DMark 11 + Fire Strike + Time Spy