NVIDIA GeForce GT 625M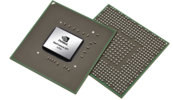 The NVIDIA GeForce GT 625M is an entry-level, DirectX 11 compatible graphics card that was announced in the third quarter of 2012 for laptops. Compared to the older GeForce GT 620M, it is a higher clocked version of the chip. The 620M can be based on either the 40nm GF108 chip (similar to the GeForce GT 525M) or the new power-optimized 28nm GF117 chip with 64-bit or 128-bit DDR3 memory. Both architectures still stem directly from the Fermi generation. Therefore, both versions are also possible for the GT 625M.
It should be noted that the 28nm version of the GT 620M does not offer dedicated graphics ports and can therefore only be used in conjunction with Optimus.
The GF117 is based on the optimized GF108 Fermi chip (GeForce GT 540M) and offers 96 shaders, 16 TMUs and 4 ROPs. Each shader core is clocked twice as fast as the rest of the graphics chip, a technique known as hot clocking. More detailed information on Fermi can be found on the GT 435M GPU page.
The performance of the GT 625M depends on the Turbo clock in the used laptop but should be on average a bit above the average GT 620M. Therefore, the card is suited for casual gamers as demanding games of 2012 may only run in low detail settings fluently.
The shader cores (also called CUDA cores) can be used for general calculations with APIs such as CUDA, DirectCompute 2.1 and OpenCL. PhysX is theoretically possible, but the GT 625M is too slow to handle both PhysX and 3D rendering for modern games. 3D Vision is not supported according to Nvidia.
GeForce GT 600M Series

Codename
N13M-GS
Architecture
Fermi
Pipelines
96 - unified
Core Speed
625 MHz
Memory Speed
1800 MHz
Memory Bus Width
64 Bit
Memory Type
DDR3
Max. Amount of Memory
1024 MB
Shared Memory
no
API
DirectX 11, Shader 5.0
Power Consumption
15 Watt
technology
28 nm
Features
PhysX, Verde Drivers, CUDA, Play, Optimus
Notebook Size
medium sized
Date of Announcement
01.10.2012
Link to Manufacturer Page
http://www.geforce.com/hardware/notebook...
Benchmarks
3DMark 11 - 3DM11 Performance Score