NVIDIA GeForce 940MX vs NVIDIA GeForce MX150
NVIDIA GeForce 940MX
► remove

The Nvidia GeForce 940MX is a mid-range laptop graphics card with DirectX 12 support (FL 11_0). It has been announced in the first quarter of 2016 and is the refresh of the GeForce 940M. Compared to the older card, the new one is based on the same chip but now supports faster GDDR5. Therefore, it is similar to the Maxwell GPU in the Microsoft Surface Book but with more memory and higher clock speeds. However, most notebook vendors will use the slower DDR3 version of the 940MX that clocks only a few percent faster than the old GeForce 940M (1122 versus 1072 MHz base clock e.g.).
For the GDDR5 version of the 940MX there appears to be also a variant with the GM107-B chip with 512 shaders instead of the 384 but lower clock speeds. The 940MX in the Acer Aspire E5-774G e.g. featured 512 shader cores (GM107) clocked at 795 - 861 MHz. The Dell Inspiron 17 7778 version however had the GM108 chip with 384 shaders clocked at 1083 - 1189 MHz.
The performance greatly depends on the used graphics memory and chip. According to our benchmarks (see below), the DDR3 version is very similar to the old 940M (due to only minor increased clock rates). The GDDR5 version however pushes ahead 20% (even 30% if paired with a fast desktop quad-core, but we lack 940M reference scores). Therefore, demanding games from 2015 should run fluently in low to medium settings and WXGA resolution.
The TDP of the card should be rated at about 15 to 30 Watt (depending on the version, clock speeds and memory). Therefore, the GPU is best suited for laptops from 13-inch and up.
NVIDIA GeForce MX150
► remove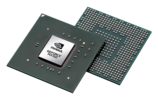 The Nvidia GeForce MX150 is a dedicated entry-level mobile graphics card for laptops based on the GP108 chip with the Pascal architecture. It was announced mid 2017 and is the mobile version of the desktop GeForce GT 1030. It offers the same 384 shader cores and 64 Bit memory bus manufactured in 14 nm. The clock rates and performance however are a bit higher than the desktop GT 1030. Officially it is the successor to the older Maxwell based GeForce 940MX.
Currently there are two variants of the MX150, a "normal" N17S-G1-A1 with 1468 - 1531 MHz and 25 Watt TDP and a power efficient variant named N17S-LG-A1 with 936 - 1037 MHz (-32%) and 10 Watt TDP (-60%) for thin and light laptops.
The GP108 chip is manufactured in a 14 nm FinFET process at Samsung (LPP) and offers a number of new features, including support for DisplayPort 1.4 (ready), HDMI 2.0b, HDR and improved H.265 video de- and encoding (PlayReady 3.0). 4K HDR with Netflix however wont run due to the minimum 3 GB graphics memory that is required. Compared to the bigger Pascal chips, the small GP108 does not support Simultaneous Multi-Projection (SMP) for VR and G-Sync. A full list of improvements and the new Pascal desktop GPUs is available in our dedicated Pascal architecture article.
The performance however is higher than the old GeForce GTX 950M with GDDR5 memory. Still modern and demanding games only run in low settings and resolutions fluently. E.g. Assassin's Creed Origins was only playable in lowest settings and 1280x720 pixels. Less demanding games like Call of Duty WW2 also ran in medium settings and Full HD fluently. See below for more and detailed gaming benchmarks.
The power efficient N17S-LG-A1 ULV variant is clearly slower than the normal one (due to the 32% lower boost clock).
The power consumption (25 Watt TDP of the chip alone) however lies on a level of the old 940MX (23 Watt). The older 950M and the new GTX 1050 are rated much higher with 40 Watt TDP. The GeForce MX150 also uses a small 23 x 23 mm package due to the small chip size.
NVIDIA GeForce 940MX

NVIDIA GeForce MX150

Manufacturer
NVIDIA
NVIDIA
GeForce MX100 Series
Codename
N16S-GTR-B/S
N17S-G1
Architecture
Maxwell
Pascal
384 -
384 -
Core
1122 - 1242 (Boost) MHz
1468 - 1532 (Boost) MHz
Memory
4000 MHz
6008 MHz
Bus
64 Bit
64 Bit
Memory
GDDR5, DDR3
GDDR5
Max. Memory
4096 MB
4096 MB
no
no
DirectX
DirectX 12 (FL 11_0), 5.0
DirectX 12_1
Transistors
1870 Million
Technology
28 nm
14 nm
Features
GPU Boost 2.0, Optimus, PhysX, CUDA, GeForce Experience, GameWorks
Vulkan, Multi Monitor
Size
Introduced
10.03.2016
16.05.2017
Manufacturer
http://www.geforce.com/hardware/notebook...
http://www.geforce.com/hardware/notebook...
Performance Rating
- 3DMark 11 + Fire Strike + Time Spy