Nvidia GeForce 940MX DDR3 Review - inside the MSI CX72
For the original German article, see here.
MSI CX72
We got the new Nvidia GeForce 940MX in a pre-sample of the MSI CX72 notebook. The CX72 series is based on the more expensive GE72 series, but offers less features and visual highlights. Our device lacks the Dynaudio and Steelseries logos, for example. The red accents are black in the case of the CX72. The texture of the keys is a bit different as well, but the typing experience remains good. You also have to live with the purposely (for gamers) "wrong" placed Windows button. The biggest difference compared to our GE72 sample is the less expensive screen, which is probably based on the TN technology. Due to the early pre-production status, however, we are not going to rate the device. Our review of the GE72 is a good indicator in terms of case, keyboard and touchpad.
Display
17.30 inch 16:9, 1920 x 1080 pixel, TN?, glossy: no
Storage
Toshiba HG6 THNSNJ128G8NY, 128 GB
, + 1TB 7200RPM HDD HGST HTS721010A9E630
Operating System
Microsoft Windows 10 Home 64 Bit
Note: The manufacturer may use components from different suppliers including display panels, drives or memory sticks with similar specifications.
Nvidia GeForce 940MX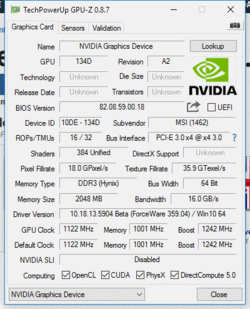 The most important part of this review is the new 940MX. Nvidia uses this GPU to refresh the popular mainstream GPU GeForce 940M. In short, there are no big changes. The DDR3 version, which is available first, is only a slightly higher-clocked 940M and therefore not much faster. Only the GDDR5 version (with slightly lower clocks according to our information), which is expected to arrive later this year, should be significantly faster. Please also have a look at our exclusive news about the new MX models including the expected performance.
The 940MX inside the CX72 is based on the Maxwell GM108 chip with 384 shaders and has a 5% and 6% (base and Boost) higher clock. Preloaded is the 359.04 beta driver; the latest Game-Ready drivers from Nvidia (as of 03/09/2016) do not directly support the 940MX.
Synthetic Benchmarks
First, we have a look at the performance in the synthetic graphics benchmarks. We use another MSI pre-sample (GP62 2QD) with a fast Broadwell quad-core CPU as a comparison device with a 940M. The 6% higher Boost clock only translates into a 1% advantage, so it is hardly worth mentioning. This also means the difference to the next fastest chips GeForce 945M and GTX 950M is basically identical.
MSI CX72 6QD


GeForce 940MX, 6700HQ, Toshiba HG6 THNSNJ128G8NY

MSI GP62 2QD


GeForce 940M, 5700HQ

Acer Aspire V Nitro VN7-792G-55SF


GeForce 945M, 6300HQ, Toshiba MQ02ABD100H

Asus N752VX-GC131T


GeForce GTX 950M, 6700HQ, Lite-On CV1-8B256

3DMark

-0%

89%

101%

1920x1080 Fire Strike Graphics

1743

1280x720 Sky Diver Graphics

6021

1280x720 Cloud Gate Standard Graphics

9770

3DMark 11
1280x720 Performance GPU

2638

Total Average (Program / Settings)
Gaming Benchmarks
The 940MX (DDR3) cannot manage a lead over the old 940M in the gaming benchmarks, either. We selected settings for our table that are just playable. This usually means the lowest settings at 1280x720 for modern titles. All in all, the performance is identical to the 940M.
MSI CX72 6QD


GeForce 940MX, 6700HQ, Toshiba HG6 THNSNJ128G8NY

MSI GP62 2QD


GeForce 940M, 5700HQ

Far Cry Primal
1280x720 Low Preset

30

XCOM 2
1280x720 Minimal Preset AF:Bilinear

31.3

Rise of the Tomb Raider
1024x768 Lowest Preset

35.1

Just Cause 3
1366x768 Medium / Off AF:4x

35.6

World of Warships
1920x1080 High Preset AF:8x

41.6

Mad Max
1366x768 Normal Preset AF:2x

41.4

The Witcher 3
1024x768 Low Graphics & Postprocessing

34.1

Total Average (Program / Settings)
If we look at all our tested games and settings in the table below, we can see that the 940MX with DDR3 memory is not very future-proof. Modern games even have problems with playable frame rates at minimum settings. At 30 fps on average, you will have to expect noticeable stutters in demanding sections. If you only want to play older or less demanding games (like Dota 2 or LoL), the 940MX is also sufficient for higher settings. FIFA 16, for example, was also smoothly playable at Full HD and maximum settings.
Verdict
The GeForce 940MX with DDR3 memory is just a slightly higher-clocked GeForce 940M. Even if there will be models with a higher clock, the performance gains will hardly be worth mentioning. More interesting will be the GDDR5 version of the 940MX. We expect around 3,000 points in 3DMark 11, which would reduce the gap to the GeForce 945M (3,500 points). We were already teased by the "Maxwell graphics card" in the Surface Book - a 940M with GDDR5, but lower clocks. Still, we would not recommend the 940MX for gamers, but at least a GTX GPU like the 960M. Those are not planned as MX versions either, based on our information.
The MSI CX72 pre-sample left a decent impression in our benchmarks. The majority of devices with a 940MX will probably be equipped with less powerful components. Frugal dual-core CPUs, less RAM and just an HDD are probable. This could affect the gaming performance a bit, especially at low details.
Computers always had an important place in my life, starting with an Intel 80286 microprocessor in the early 1990s. I became interested in the productive side of technology, especially in campus radio, while studying at TU Chemnitz and during a trainee program in Belfast. Hardware interests led me to manage Notebookjournal.de, which is now a division of Notebooksbilliger, for a few years. I became self-employed in 2010 and took the next logical step in my career by starting to write for Notebookcheck.
I grew up with modern consumer electronics and my first computer was a Commodore C64, which encouraged my interest in building my own systems. I started working as a review editor for Notebookcheck during my dual studies at Siemens. Currently, I am mainly responsible for dealing with business laptops and mobile workstations. It's a great experience to be able to review the latest devices and technologies and then compare them with each other.