NVIDIA GeForce GTX 680MX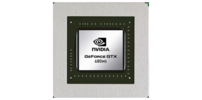 The NVIDIA GeForce GTX 680MX is a high-end DirectX 11-compatible graphics card commonly found on Apple iMac products. It is based on the 28nm GK104 Kepler architecture similar to the GTX 680M, but features more CUDA cores (1536 vs. 1344) and a higher memory clock rate (720/2500MHz vs. 720/1800MHz)
Architecture
The Kepler architecture is the successor to the Fermi architecture that first appeared in laptops with the GeForce 400M series. The GK104 Kepler core offers eight shader blocks, called SMX, that are clocked at the same speed as the central core. In the GTX 680MX, all eight blocks are active for a total of 1536 CUDA cores. Although the Kepler architecture can utilize more shader cores than a Fermi chip, its shaders can be up to twice as power efficient. However, due to the missing hot clock of the shader domain, two shaders of a Kepler chip are of similar speed to one shader of a Fermi chip (as the latter is clocked twice as fast).
PCIe 3.0 is now supported by the mobile Kepler series and an optional Turbo mode can automatically overclock the Nvidia card by a theoretical 15 percent if the laptop cooling system allows it. The implementation of this boost mode is done in the BIOS, but it is ultimately dependent upon the manufacturer of the laptop.
Performance
Thanks to the additional shader cores and the faster memory, the graphics performance of the GeForce GTX 680MX should be 15 - 25 percent above the GTX 680M and similar to the Desktop GTX 580. The GPU has enough power to run demanding games of 2012 fluently with Full HD resolution and maxed out graphical settings. Battlefield 3, Skyrim, and Crysis 2, for example, are playable at the highest detail settings.
As an example, the GTX 680MX can play Battlefield 3 on ultra settings at 30 FPS on a native resolution of 2560x1440 during our benchmark sequence. For fluent multiplayer gameplay, the resolution and/or anti-aliasing should be reduced (e.g. 1920x1080 Ultra at 45 fps).
Features
The improved feature set now includes support for up to 4 active displays. Furthermore, high resolution monitors of up to 3840x2160 pixels can now be connected using DisplayPort 1.2 or HDMI 1.4a if available. HD-Audio codecs, such as Dolby TrueHD and DTS-HD, can be transmitted via bitstream mode through the HDMI port. However, as most laptops will feature Optimus, the integrated GPU will likely have direct control over the display ports and may limit the feature set available by the Nvidia Kepler cards.
The 5th generation PureVideo HD video processor (VP5) is also integrated in the GK104 core and offers hardware decoding of HD videos. Common codecs such as MPEG-1/2, MPEG-4 ASP, H.264 and VC1/WMV9 are fully supported up to 4K resolutions while VC1 and MPEG-4 are supported up to 1080p. Two streams can be decoded in parallel for features such as Picture-in-Picture. Another novelty is the inclusion of a dedicated video encoding engine similar to Intel QuickSync that can be accessed by the NVENC API.
The power consumption of the GeForce GTX 680MX should be somewhat higher than the GTX 680M, making it difficult to cool for laptops. The Apple iMac is currently the most readily available product to utilize this high-end card.
GeForce GTX 600M Series

Architecture
Kepler
Pipelines
1536 - unified
Core Speed
720 MHz
Memory Speed
5000 MHz
Memory Bus Width
256 Bit
Memory Type
GDDR5
Max. Amount of Memory
2048 MB
Shared Memory
no
API
DirectX 11, Shader 5.0, OpenGL 4.3
Power Consumption
122 Watt
Transistor Count
3.5 Billion
technology
28 nm
Features
Optimus, SLI, PhysX, Verde Drivers, CUDA, 3D Vision, 3DTV Play
Notebook Size
large
Date of Announcement
23.10.2012
Link to Manufacturer Page
http://www.geforce.com/hardware/notebook...
Benchmarks
3DMark 11 - 3DM11 Performance Score