NVIDIA GeForce 930MX vs NVIDIA GeForce 940M vs NVIDIA GeForce 920M
NVIDIA GeForce 930MX
► remove from comparison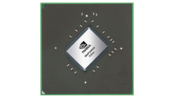 The Nvidia GeForce 930MX is an entry-level DirectX 12 graphics card for laptops that was announced in the first quarter of 2016. It is the refresh of the GeForce 930M and now supports GDDR5 graphics memory. It is based on the same GM108 chip and may feature slightly increased clock rates.
The performance will depend on the used graphics memory. With fast GDDR5 it should be similar or slightly faster than the Maxwell GPU in the Surface Book. With DDR3 it performs be somewhere between the old 930M and 940M. That means that only non demanding games of 2017 run fluently (in lowest detail settings) on the GeForce 930M. Games with low demands like Dota 2 or Path of Exile should run in higher detail settings and resolution.
The power consumption should be quite similar to the 930M and 940M and therefore also suited for smaller laptops.
NVIDIA GeForce 940M
► remove from comparison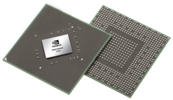 The NVIDIA GeForce 940M is a mid-range DirectX 11-compatible graphics card for laptops unveiled in March 2015. It is based on Nvidia's Maxwell architecture (GM108 chip) and manufactured in 28 nm. The 940M offers 384 shader units as well as 2 GB of DDR3 memory (64 bit, 2000 MHz effective).
Compared to the previous and technically very similar GeForce 840M, the GeForce 940M is clocked just slightly higher.
Architecture
Compared to Kepler, Maxwell has been optimized in several details to increase power efficiency. Smaller Streaming Multiprocessors (SMM) with only 128 ALUs (Kepler: 192) and an optimized scheduler should lead to better utilization of the shaders. Nvidia promises that a Maxwell SMM with 128 ALUs can offer 90 percent of the performance of a Kepler SMX with 192 ALUs. GM108 features 3 SMMs and thus 384 shader cores, 24 TMUs and 8 ROPs (64-bit interface).
Another optimization is the massively enlarged L2 cache. The larger size can process some of the memory traffic to allow for a relatively narrow memory interface without significantly reducing performance.
Similar to Fermi and Kepler, the GM107/GM108 support DirectX 12 with feature level 11_0 only.
Performance
Due to its just 5 percent higher core clock, the GeForce 940M is only marginally faster than the previous GeForce 840M and similar to the older GeForce GT 750M (DDR3 version). Many games of 2014/2015 can be played fluently in WXGA resolution (1366 x 768) and medium detail settings. However, very demanding games such as Assassin's Creed Unity will require lower resolutions and/or details.
Features
GM108 integrates the sixth generation of the PureVideo HD video engine (VP6), offering a better decoding performance for H.264 and MPEG-2 videos. Of course, VP6 supports all features of previous generations (4K support, PIP, video encoding via NVENC API). Unfortunately, HDMI 2.0 is still not supported.
Power Consumption
The power consumption of the GeForce 940M should be about 30 Watts or lower. Therefore, the GPU is best suited for laptops 13 - 14 inches in size and above. The 900M series also supports Optimus to automatically switch between an integrated graphics card and the Nvidia GPU.
NVIDIA GeForce 920M
► remove from comparison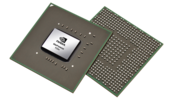 The NVIDIA GeForce 920M (sometimes also NVIDIA GeForce GT 920M) is an entry level DirectX 12 graphics card. It is based on the 28 nm Kepler architecture and uses the same GK208 chip as the GeForce GT 730M, 825M and 740M. The 384 shaders are clocked at 954 MHz, while the memory (64-bit DDR3 interface) runs at 900 MHz (1800 MHz effective).
Architecture
GK208 is based on the Kepler architecture and offers two shader blocks, called SMX, each with 192 shaders for a total of 384 shader cores. The shaders are clocked at the same speed as the rest of the chip. Furthermore, the GK208 chip has 16 TMUs and 8 ROPs on a 64-bit memory interface.
PCIe 3.0 is now supported by the mobile Kepler series and GPU Boost 2.0 mode can automatically overclock the card if the laptop cooling system allows it. This feature is available on any notebook with a graphics card from the 800M series.
Performance
The GeForce 920M offers a performance similar to the AMD Radeon R7 M260 or R7 M360 and will handle modern games (as of 2014/2015) in low settings only. For comparison, a GeForce 930M is about 20 to 30 percent faster than the 920M.
Features
The feature set of the 920M corresponds to the GT 730M and 825M. This includes support for up to 4 active displays. Furthermore, high resolution monitors of up to 3840x2160 pixels can now be connected using DisplayPort 1.2 or HDMI 1.4a if available. HD-Audio codecs, such as Dolby TrueHD and DTS-HD, can be transmitted via bitstream mode through the HDMI port. However, as most laptops will feature Optimus, the integrated GPU will likely have direct control over the display ports and may limit the feature set available by the Nvidia Kepler cards.
The 5th generation PureVideo HD video processor (VP5) offers hardware decoding of HD videos. Common codecs such as MPEG-1/2, MPEG-4 ASP, H.264 and VC1/WMV9 are fully supported up to 4K resolutions while VC1 and MPEG-4 are supported up to 1080p. Two streams can be decoded in parallel for features such as Picture-in-Picture. Another feature is the inclusion of a dedicated video encoding engine similar to Intel QuickSync that can be accessed via the NVENCI API.
Power Consumption
The power consumption of the GeForce 920M is similar to the 825M and suited for 13-inch laptops and above.
| | | | |
| --- | --- | --- | --- |
| | NVIDIA GeForce 930MX | NVIDIA GeForce 940M | NVIDIA GeForce 920M |
| GeForce 900M Series | | | |
| Codename | N16S-GMR | N16S-GT-S/B | N16V-GM-S |
| Architecture | Maxwell | Maxwell | Kepler |
| Pipelines | 384 - unified | 384 - unified | 384 - unified |
| Core Speed | 952 - 1020 (Boost) MHz | 1072 - 1176 (Boost) MHz | 954 MHz |
| Memory Speed | 2000 MHz | 2000 MHz | 1800 MHz |
| Memory Bus Width | 64 Bit | 64 Bit | 64 Bit |
| Memory Type | GDDR5, DDR3 | DDR3 | DDR3 |
| Shared Memory | no | no | no |
| API | DirectX 12 (FL 11_0), Shader 5.0, OpenGL 4.5 | DirectX 12 (FL 11_0), Shader 5.0, OpenGL 4.5 | DirectX 12 (FL 11_0), Shader 5.0, OpenGL 4.5 |
| Power Consumption | 15-25 Watt | 25 Watt | |
| technology | 28 nm | 28 nm | 28 nm |
| Features | GPU Boost 2.0, Optimus, PhysX, CUDA, GeForce Experience | GPU Boost 2.0, Optimus, PhysX, CUDA, GeForce Experience | Optimus, PhysX, Verde Drivers, CUDA, 3D Vision, 3DTV Play, GPU Boost 2.0 |
| Date of Announcement | 10.03.2016 | 12.03.2015 | 27.01.2015 |
| Link to Manufacturer Page | http://www.geforce.com/hardware/notebook... | http://www.geforce.com/hardware/notebook... | http://www.geforce.com/hardware/notebook... |
| Max. Amount of Memory | | 4 GB | 4 GB |
| Notebook Size | | medium sized | |
| Transistors | | | 1.3 Billion |
Benchmarks
Performance Rating
- 3DMark 11 + Fire Strike + Time Spy
- GeForce 930MX