NVIDIA GeForce RTX 3070 vs NVIDIA GeForce RTX 3080 Max-Q vs NVIDIA GeForce RTX 3050 Ti Laptop GPU
NVIDIA GeForce RTX 3070
► remove from comparison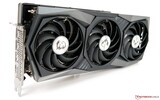 The Nvidia GeForce RTX 3070 is a fast desktop graphics card based on the Ampere architecture. It uses the big GA104 chip and offers 5,888 cores and 8 GB GDDR6 graphics memory.
The performance in games and 4k resolution is slightly below a RTX 2080 Ti but clearly faster then the old RTX 2080 Super. For most games, the performance is sufficient for 4k and maximum details. Enabling raytracing however (without DLSS) will lead to a significant lower performance (although the RTX performance was clearly improved compared to the RTX 2000 series).
The GA104 chip is produced in 8nm at Samsung and the power consumption of the RT 3070 is specified with 220 Watt (RTX 2070 Super - 215 Watt).
NVIDIA GeForce RTX 3080 Max-Q
► remove from comparison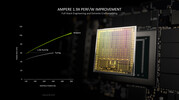 The Nvidia GeForce RTX 3080 Max-Q (for laptops, GN20-E7 Max-Q) is the former name for a RTX 3080 Laptop GPU with Max-Q technologies. In previous generations, the Max-Q name was used for low power versions. With the RTX 3000 series, every TGP-version can now use Max-Q technologies and all GPUs are called RTX 3080 Laptop GPU (80 - 150W+).
NVIDIA GeForce RTX 3050 Ti Laptop GPU
► remove from comparison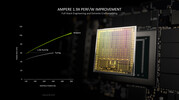 The Nvidia GeForce RTX 3050 Ti Laptop GPU (for laptops, NVIDIA_DEV.2583, GN20-P1) is a faster variant of the RTX 3050 mobile card and based on the GA107 Ampere chip. The chip offers 2560 CUDA, 20 Ray Tracing and 80 Tensor cores. The clock rate depends on the used TGP-version (from 35 - 80 Watt).
Unverified Clock Speeds

| | | | | | | | |
| --- | --- | --- | --- | --- | --- | --- | --- |
| TGP (Power Consumption) | 35 W | 40 W | 45 W | 50 W | 60 W | 70 W | 80 W |
| Base Clock Speed (MHz) | 735 | 915 | 1043 | 1140 | 1223 | 1350 | 1463 |
| Boost Clock Speed (MHz) | 1035 | 1185 | 1290 | 1410 | 1485 | 1598 | 1695 |
The performance (of the high TGP variants) should be similar to the old RTX 2060 and therefore most suited for 1080p gaming with high detail settings. The performance is not sufficient to enable Raytracing in most games, but the Tensor cores can be used for DLSS in some games (and get a performance boost with a slight quality reduction). Beware, that the low TGP variants will offer a significantly lower performance.
The GA107 chip offers 3,072 FP32 ALUs of which half can also execute INT32 instructions (i.e. 1,536 INT32 ALUs). The RTX 3050 Ti however maybe won't use all ALUs on the chip. With Turing all shaders could still execute FP32 or INT32 instructions. The raytracing and tensor cores on the chip were also improved according to Nvidia. The Ampere chips also include an improved 5th generation video encoder (NVENC for H.264 and H.265) and a 7th generation decoder (for various formats now including AV1).
The GA107 chip is manufactured by Samsung in 8nm (8N), which is not quite able to keep up with the 7nm node at TSMC (e.g. used by AMD and also for the professional GA100 Ampere chip).
| | | | |
| --- | --- | --- | --- |
| | NVIDIA GeForce RTX 3070 | NVIDIA GeForce RTX 3080 Max-Q | NVIDIA GeForce RTX 3050 Ti Laptop GPU |
| GeForce RTX 3000 Series | | | |
| Codename | Ampere GA104 | GN20-E7 GA104 | GN20-P1 |
| Architecture | Ampere | Ampere | Ampere |
| Pipelines | 5888 - unified | 6144 - unified | 2560 - unified |
| Core Speed | 1500 - 1725 (Boost) MHz | 780 - 1245 (Boost) MHz | 1222 - 1485 (Boost) MHz |
| Memory Speed | 14000 MHz | 6000 MHz | 12000 effective = 1500 MHz |
| Memory Bus Width | 256 Bit | 256 Bit | 128 Bit |
| Memory Type | GDDR6 | GDDR6 | GDDR6 |
| Max. Amount of Memory | 8 GB | 16 GB | 4 GB |
| Shared Memory | no | no | no |
| API | DirectX 12_2, Shader 7.0, OpenGL 4.6 | DirectX 12_2, Shader 7.0, OpenGL 4.6 | DirectX 12_2, Shader 7.0, OpenGL 4.6 |
| Power Consumption | 220 Watt | 80 Watt | 60 Watt (35 - 80 Watt TGP) |
| Transistors | 17.4 Billion | | |
| technology | 8 nm | 8 nm | 8 nm |
| Date of Announcement | 16.09.2020 | 04.01.2021 | 10.05.2021 |
| Notebook Size | | large | large |
| TMUs | | | 80 |
| ROPs | | | 32 |
| Raytracing Cores | | | 20 |
| Tensor / AI Cores | | | 80 |
| Memory Bandwidth | | | 195 GB/s |
| PCIe | | | 4.0 |
| Displays | | | HDMI 2.1, DisplayPort 1.4a |
| Features | | | NVIDIA DLSS, NVIDIA Reflex, NVIDIA Broadcast, Resizable BAR, NVIDIA Ansel, NVIDIA FreeStyle, NVIDIA ShadowPlay®, NVIDIA G-SYNC® |
Benchmarks
Performance Rating
- 3DMark 11 + Fire Strike + Time Spy
- NVIDIA GeForce RTX 3070