AMD Ryzen 7 5800H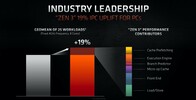 The AMD Ryzen 7 5800H is a high-performance octa-core processor of the Cezanne product family. It was released in Q1 2021; it is designed for use in larger laptops, primarily gaming laptops and DTRs. The Ryzen features eight SMT-enabled Zen 3 cores running at 3.2 GHz (base clock speed) to 4.4 GHz (highest Boost frequency possible) along with the Vega 8 iGPU. The chip has 16 MB of L3 cache.
Architecture
The Ryzen 7 5800H is manufactured on the modern 7 nm TSMC process, just like the outgoing Ryzen 7 4800H was; both CPUs have 8 cores and 16 threads, too. The underlying microarchitecture is what makes the two vastly different as the newer Zen 3 microarchitecture brings a massive IPC improvement over Zen 2. To be specific, AMD promises an increase of up to 19%, with independent reviews pointing to a lower (but sizeable nonetheless) 12% increase.
Ryzen 5 5800H supports dual-channel DDR4-3200 and quad-channel LPDDR4-4266 RAM. Unlike the desktop-grade Ryzen 5000-series processors, Ryzen 5 5800H does not support PCI-Express 4.0, meaning NVMe SSDs will be limited to read/write rates of 3.9 GB/s.
The CPU gets soldered straight on to the motherboard (FP6 socket interface) and is thus not user-replaceable.
Performance
The Ryzen is a marvel of a processor, with very high scores no matter the benchmark. As far as multi-thread performance is concerned, the average 5800H in our database trades blows with the Intel Core i5-12500H, Core i7-11800H, Core i7-12650H, Core i9-11950H and also the AMD Ryzen 9 4900H. Needless to say, a system built around this CPU will have little difficulty chewing through pretty much any workload imaginable for years to come.
Your mileage may vary depending on how high the CPU power limits are and how competent the cooling solution of the laptop is. With the long-term Power Limit of 75 W, the Lenovo Legion 5 15ACH is among the fastest 5800H-toting laptops that we have tested; it can be at least 20% faster in CPU-bound workloads than the slowest laptops built around the 5800H in our database such as the HP Victus 16 or the Asus ZenBook 14X OLED.
Graphics
In addition to its eight CPU cores, the APU has the Radeon RX Vega 8 graphics adapter. Just like the name suggests, Vega 8 features 8 Compute Units (8 x 64 = 512 unified shaders); in the case of Ryzen 7 5800H, the Vega runs at up to 2,000 MHz.
On paper, this iGPU is inferior to the 96 EU Intel Iris Xe Graphics G7. However, as is usually the case, synthetic benchmarks do not tell the entire story, as AMD's drivers are superior to those of Intel. As a result, the Vega will let you play a lot of games released in 2020 and 2021 at reasonable resolutions (up to Full HD 1080p) and Low to Medium presets. Mass Effect Legendary Edition is playable at 1080p (High), to give you an example. As the iGPU has no VRAM of its own, it is paramount that fast system RAM is used.
The graphics adapter definitely supports 2160p UHD monitors at 60 Hz. AVC, HEVC, MPEG-2, VP9-encoded videos can be hardware-decoded with the Vega but there is no AV1 support here; such a video will be software-decoded for much lower energy efficiency.
Power consumption
This AMD APU has a default TDP (also known as the long-term Power Limit) of 45 W that can be changed to anything between 35 W and 54 W by laptop makers, with clock speeds and performance changing accordingly as a result. No matter the exact value, an active cooling solution is a must.
The Ryzen 7 5800H is built with TSMC's 7 nm process for very decent, as of early 2022, energy efficiency.
Series
AMD Cezanne (Zen 3, Ryzen 5000)
Codename
Cezanne-H (Zen 3)

Series: Cezanne (Zen 3, Ryzen 5000) Cezanne-H (Zen 3)

Clock Rate
3200 - 4400 MHz
Level 1 Cache
512 KB
Level 2 Cache
4 MB
Level 3 Cache
16 MB
Number of Cores / Threads
8 / 16
Power Consumption (TDP = Thermal Design Power)
45 Watt
Manufacturing Technology
7 nm
Max. Temperature
105 °C
Socket
FP6
Features
DDR4-3200/LPDDR4-4266 RAM, PCIe 3, MMX, SSE, SSE2, SSE3, SSSE3, SSE4A, SSE4.1, SSE4.2, AVX, AVX2, BMI2, ABM, FMA, ADX, SMEP, SMAP, SMT, CPB, AES-NI, RDRAND, RDSEED, SHA, SME
GPU
AMD Radeon RX Vega 8 (Ryzen 4000/5000) ( - 2000 MHz)
64 Bit
64 Bit support
Architecture
x86
Announcement Date
01/07/2021
Product Link (external)
AMD Cezanne (Zen 3, Ryzen 5000) R7 5800H
Benchmarks
Performance Rating
- CB R15 + R20 + 7-Zip + X265 + Blender + 3DM11 CPU