AMD Ryzen 7 7730U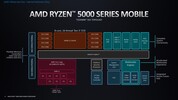 The AMD Ryzen 7 7730U is a processor for thin and light laptops based on the Cezanne generation. It is part of the second "Barcelo" refresh in early 2023 and offers the same specifications as the old Ryzen 7 5825U. The CPU integrates all eight cores based on the Zen 3 microarchitecture clocked at 2 (guaranteed base clock) to 4.5 GHz (Turbo) and support SMT / Hyperthreading (16 threads). The chip is manufactured in 7nm at TSMC.
The Zen 3 microarchitecture offers a significantly higher IPC (instructions per clock) compared to Zen 2 but stays behind the current Zen 4 based CPUs (e.g. 7040HS series).
Performance
The average 7730U in our database is in the same league as the Ryzen 7 5825U, Ryzen 7 6800U, Ryzen 7 PRO 6850U and also the Core i7-1360P, as far as multi-thread benchmark scores are concerned.
Thanks to its decent cooling solution and a long-term CPU power limit of 30 W, the ThinkPad E14 G5-21JSS05C00 is among the fastest laptops built around the 7730U that we know of. It can be almost 40% faster in CPU-bound workloads than the slowest system featuring the same chip in our database, as of August 2023.
In addition to the eight CPU cores, the APU also integrates a Radeon RX Vega 8 GPU with 8 CUs at up to 2000 MHz. The dual channel memory controller supports DDR4-3200 and energy efficient LPDDR4-4266 RAM. Furthermore, 16 MB level 3 cache (up from 8 MB at the 4800U) can be found on the chip.
The TDP of the APU is specified at 15 Watt (the 5825U was specified at 10 - 25W).
Series
AMD Cezanne (Zen 3, Ryzen 5000)
Codename
Barcelo-U Refresh

Series: Cezanne (Zen 3, Ryzen 5000) Barcelo-U Refresh

Clock Rate
2000 - 4500 MHz
Level 1 Cache
512 KB
Level 2 Cache
4 MB
Level 3 Cache
16 MB
Number of Cores / Threads
8 / 16
Power Consumption (TDP = Thermal Design Power)
15 Watt
Manufacturing Technology
7 nm
Max. Temperature
95 °C
Socket
FP6
Features
DDR4-3200/LPDDR4x-4266 RAM (incl. ECC), PCIe 3, MMX, SSE, SSE2, SSE3, SSSE3, SSE4A, SSE4.1, SSE4.2, AVX, AVX2, BMI2, ABM, FMA, ADX, SMEP, SMAP, SMT, CPB, AES-NI, RDRAND, RDSEED, SHA, SME
GPU
AMD Radeon RX Vega 8 (Ryzen 4000/5000) ( - 2000 MHz)
64 Bit
64 Bit support
Architecture
x86
Announcement Date
01/04/2022
Product Link (external)
www.amd.com
Benchmarks
Performance Rating
- CB R15 + R20 + 7-Zip + X265 + Blender + 3DM11 CPU