AMD Ryzen 5 5600H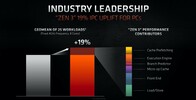 The AMD Ryzen 5 5600H is a processor for big (gaming) laptops based on the Cezanne generation. The R5 5600H has six of the eight cores based on the Zen 3 microarchitecture. They are clocked at 3.3 GHz (guaranteed base clock) to 4.2 GHz (Turbo) and support SMT for a total of 12 threads. The chip is manufactured on the modern 7 nm TSMC process.
The new Zen 3 microarchitecture offers a significantly higher IPC (instructions per clock) compared to Zen 2. For desktop processors AMD claims 19 percent on average and in applications reviews showed around 12% gains at the same clock speed.
In addition to the six CPU cores, the APU also integrates a Radeon RX Vega 7 integrated graphics processor with 7 CUs running at up to 1800 MHz. The dual channel memory controller supports DDR4-3200 and energy efficient LPDDR4-4266 RAM. Furthermore, 16 MB of L3 cache can be found on the chip.
Performance
The average 5600H in our database is in the same league as the Ryzen 5 6600HS and the Core i7-1260P, as far as multi-thread benchmark scores are concerned.
Thanks to its decent cooling solution and a long-term CPU power limit of 45 W, the Lenovo Legion 5 17 is among the fastest laptops powered by the 5600H that we know of. It can be roughly 30% faster in CPU-bound workloads than the slowest system featuring the same chip in our database, as of August 2023.
Power consumption
This Ryzen 5 series chip has a default TDP (also known as the long-term power limit) of 45 W, a value that laptop makers are allowed to change to anything between 35 W and 54 W with clock speed and performance changing accordingly as a result. A high-performance cooling solution is a must for a CPU like this.
The hexa-core APU is built with the 7 nm TSMC process for decent, as of late 2022, energy efficiency.
Series
AMD Cezanne (Zen 3, Ryzen 5000)
Codename
Cezanne-H (Zen 3)

Series: Cezanne (Zen 3, Ryzen 5000) Cezanne-H (Zen 3)

Clock Rate
3300 - 4200 MHz
Level 1 Cache
384 KB
Level 2 Cache
3 MB
Level 3 Cache
16 MB
Number of Cores / Threads
6 / 12
Power Consumption (TDP = Thermal Design Power)
45 Watt
Manufacturing Technology
7 nm
Socket
FP6
Features
DDR4-3200/LPDDR4-4266 RAM, PCIe 3, MMX, SSE, SSE2, SSE3, SSSE3, SSE4A, SSE4.1, SSE4.2, AVX, AVX2, BMI2, ABM, FMA, ADX, SMEP, SMAP, SMT, CPB, AES-NI, RDRAND, RDSEED, SHA, SME
GPU
AMD Radeon RX Vega 7 ( - 1800 MHz)
64 Bit
64 Bit support
Architecture
x86
Announcement Date
01/07/2021
Product Link (external)
www.amd.com
Benchmarks
Performance Rating
- CB R15 + R20 + 7-Zip + X265 + Blender + 3DM11 CPU