Apple M2 Max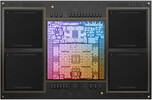 The Apple M2 Max is a System on a Chip (SoC) from Apple that is found in the early 2023 MacBook Pro 14 and 16-inch models. It offers all 12 CPU cores available in the chip divided in eight performance cores (P-cores) and four power-efficiency cores (E-cores). The E-cores clock with up to 3.4 GHz, the P-Cores up to 3.7 GHz (mostly 3.3 GHz in multi-threaded workloads and 3.4 GHz in single threaded).
The big cores (codename Avalanche) offer 192 KB instruction cache, 128 KB data cache, and 36 MB shared L2 cache (up from 24 MB in the M1 Pro). The four efficiency cores (codename Blizzard) are a lot smaller and offer only 128 KB instruction cache, 64 KB data cache, and 4 MB shared cache. CPU and GPU can both use the 49 MB SLC (System Level Cache).
The unified memory (32, 64, or 96 GB LPDDR5-6400) next to the chip is connected by a 512 Bit memory controller (400 GB/s bandwidth) and can be used by the GPU and CPU.
The CPU performance should be quite similar to the M2 Pro as only the higher memory bandwidth and bigger L3 cache could make a difference for some workloads.
The integrated graphics card in the M1 Max offers a 30-core GPU or a GPU with all 38 cores.
Furthermore, the SoC integrates a fast 16 core neural engine (faster than M1 Max), a secure enclave (e.g., for encryption), a unified memory architecture, Thunderbolt 4 controller, an ISP, and media de- and encoders (including ProRes).
The M2 Max is manufactured in 5 nm at TSMC (second generation) and integrates 40 billion transistors. The power consumption of the CPU part is up to 36 Watt according to powermetrics. When fully loading the CPU and GPU cores, the chip uses up to 89 Watt and the CPU part is limited to 25 Watt.
Series
Apple Apple M-Series

Series: Apple M-Series

Clock Rate
2424 - 3696 MHz
Level 1 Cache
3.3 MB
Level 2 Cache
36 MB
Level 3 Cache
48 MB
Number of Cores / Threads
12 / 12
Power Consumption (TDP = Thermal Design Power)
79 Watt
Transistor Count
67000 Million
Manufacturing Technology
5 nm
Features
ARMv8 Instruction Set
GPU
Apple M2 Max 38-Core GPU
64 Bit
64 Bit support
Architecture
ARM
Announcement Date
01/17/2023
Benchmarks
Cinebench R23 - Cinebench R23 Multi Core