AMD Ryzen 9 5980HS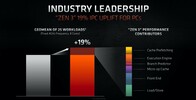 The AMD Ryzen 9 5980HS is a processor for big (gaming) laptops based on the Cezanne generation. The R9 5980HS integrates all eight cores based on the Zen 3 microarchitecture. They are clocked at 3 GHz (guaranteed base clock) to 4.8 GHz (Turbo) and support SMT / Hyperthreading (16 threads). The chip is manufactured in the modern 7 nm process at TSMC. Compared to the 5980HX (up to 54 W), the 5980HS is configured to a TDP of 35W and offers a 300 MHz reduced base speed.
The new Zen 3 microarchitecture offers a significantly higher IPC (instructions per clock) compared to Zen 2. For desktop processors AMD claims 19 percent on average and in applications reviews showed around 12% gains at the same clock speed.
With the increased clock speed and IPC improvements thanks to Zen 3, the Ryzen 9 5980HS should be clearly faster than the lower clocked Ryzen 9 4900H.
In addition to the eight CPU cores, the APU also integrates a Radeon RX Vega 8 integrated graphics card with 8 CUs and up to 2100 MHz. The dual channel memory controller supports DDR4-3200 and energy efficient LPDDR4-4266 RAM. Furthermore, 16 MB level 3 cache can be found on the chip.
The TDP of the APU is specified at 35 Watt and therefore suited for smaller laptops than the 5980HX (35 - 52W, default 45W).
Series
AMD Cezanne (Zen 3, Ryzen 5000)
Codename
Cezanne H (Zen 3)

Series: Cezanne (Zen 3, Ryzen 5000) Cezanne H (Zen 3)

Clock Rate
3300 - 4800 MHz
Level 1 Cache
512 KB
Level 2 Cache
4 MB
Level 3 Cache
16 MB
Number of Cores / Threads
8 / 16
Power Consumption (TDP = Thermal Design Power)
35 Watt
Manufacturing Technology
7 nm
Max. Temperature
105 °C
Socket
FP6
Features
XFR, FMA3, SSE 4.2, AVX2, SMT
GPU
AMD Radeon RX Vega 8 (Ryzen 4000/5000) ( - 2100 MHz)
64 Bit
64 Bit support
Architecture
x86
Announcement Date
01/07/2021
Product Link (external)
AMD Cezanne (Zen 3, Ryzen 5000) R9 5980HS
Benchmarks
Performance Rating
- CB R15 + R20 + 7-Zip + X265 + Blender + 3DM11 CPU