AMD Ryzen 7 5825C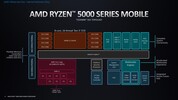 The AMD Ryzen 7 5825C is a processor for Chromebook laptops based on the Cezanne generation. It is part of the "Barcelo" refresh in 2022 and offers 100 MHz higher clocked CPU cores compared to the old Ryzen 7 5800U. The R7 5825C integrates all eight cores based on the Zen 3 microarchitecture and is the fastest U-series processor at launch. They are clocked at 2 (guaranteed base clock) to 4.5 GHz (Turbo) and support SMT / Hyperthreading (16 threads). The chip is manufactured on the modern 7 nm TSMC process. The 5825C is the Chromebook version to the identical Ryzen 7 5825U.
The new Zen 3 microarchitecture offers a significantly higher IPC (instructions per clock) compared to Zen 2. For desktop processors AMD claims 19 percent on average and in applications reviews showed around 12% gains at the same clock speed.
The CPU performance should be between the old Ryzen 7 5800U and the new Ryzen 7 6800U (Zen+, 6nm, 4.7 GHz).
In addition to the eight CPU cores, the APU also integrates a Radeon RX Vega 8 GPU with 8 CUs at up to 2000 MHz. The dual channel memory controller supports DDR4-3200 and energy efficient LPDDR4-4266 RAM. Furthermore, 16 MB level 3 cache (up from 8 MB at the 4800U) can be found on the chip.
The TDP of the APU is specified at 15 Watt (default) and can be configured from 10 to 25 Watt by the laptop vendor (most chips are configured higher than 15 Watt). That means the chip is intended for thin and light laptops (but with fans).
Series
AMD Cezanne (Zen 3, Ryzen 5000)
Codename
Barcelo (Zen 3)

Series: Cezanne (Zen 3, Ryzen 5000) Barcelo (Zen 3)

Clock Rate
2000 - 4500 MHz
Level 1 Cache
512 KB
Level 2 Cache
4 MB
Level 3 Cache
16 MB
Number of Cores / Threads
8 / 16
Power Consumption (TDP = Thermal Design Power)
25 Watt
Manufacturing Technology
7 nm
Max. Temperature
95 °C
Socket
FP6
Features
XFR, FMA3, SSE 4.2, AVX2, SMT
GPU
AMD Radeon RX Vega 8 (Ryzen 4000/5000) ( - 2000 MHz)
64 Bit
64 Bit support
Architecture
x86
Announcement Date
05/05/2022
Product Link (external)
AMD Cezanne (Zen 3, Ryzen 5000) R7 5825C
Benchmarks
- Range of benchmark values for this graphics card

- Average benchmark values for this graphics card
* Smaller numbers mean a higher performance
v1.22
log 31. 10:17:16
#0 no ids found in url (should be separated by "_") +0s ... 0s
#1 not redirecting to Ajax server +0s ... 0s
#2 did not recreate cache, as it is less than 5 days old! Created at Sun, 28 May 2023 13:55:04 +0200 +0.001s ... 0.001s
#3 composed specs +0.012s ... 0.013s
#4 did output specs +0s ... 0.013s
#5 getting avg benchmarks for device 14392 +0.002s ... 0.015s
#6 got single benchmarks 14392 +0s ... 0.015s
#7 got avg benchmarks for devices +0s ... 0.015s
#8 min, max, avg, median took s +0s ... 0.015s
#9 return log +0.025s ... 0.04s
No reviews found for this CPU (yet).