NVIDIA GeForce MX230 vs Intel Iris Plus Graphics G7 (Ice Lake 64 EU)
NVIDIA GeForce MX230
► remove from comparison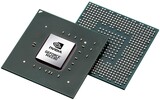 The Nvidia GeForce MX230 is an entry-level dedicated laptop graphics card with DirectX 12 support (FL 12_1) based (most likely) on the Pascal architecture (and not Maxwell as the older MX130). Similar to the faster MX250, the MX230 is based on the GP108 chip.
Features
The GP108 chip is manufactured in a 14 nm FinFET process at Samsung (LPP) and offers a number of new features, including support for DisplayPort 1.4 (ready), HDMI 2.0b, HDR and improved H.265 video de- and encoding (PlayReady 3.0). 4K HDR with Netflix, however, wont run due to the minimum 3 GB graphics memory that is required. Compared to the bigger Pascal chips, the small GP108 does not support Simultaneous Multi-Projection (SMP) for VR and G-Sync. A full list of improvements and the new Pascal desktop GPUs is available in our dedicated Pascal architecture article.
Performance
Thanks to the newer Pascal architecture, the MX230 is significantly faster than the old GeForce MX130 (Maxwell based). Demanding games of 2019 run only in lowest resolution and detail settings and may stutter (e.g. Anno 1800 or Rage 2 ran with under 30fps in our benchmarks). Less demanding games like Overwatch, Fifa 19 or Rocket League, however, can be played in higher detail and resolution settings without stuttering (see benchmarks below).
Power Consumption
The MX230 is manufactured in 14nm at Samsung and due to the low shader count and 64 Bit memory bus, the power consumption is rather low. Therefore, the chip can be also used for small and thin laptops. In our power tests, the faster MX250 needed 22% more power (Furmark load) and the old MX130 even 38% more. The integrated UHD Graphics 620 needed on average only 17% less power at a much lower performance.
Intel Iris Plus Graphics G7 (Ice Lake 64 EU)
► remove from comparison

The Intel Iris Plus Graphics G7 (Ice Lake with 64 EUs) is an integrated graphics card in the Ice Lake SoCs (10th generation core 10xxG7) for laptops. It offers no dedicated graphics memory (no eDRAM cache like the Intel Iris Graphics 655 predecessor of the Coffee Lake SoCs). The clock rate depends on the processor model. At launch it looks like all models have a 300 MHz base clock and only differ in the boost clock (1050 - 1100 MHz). Another difference is the TDP as it can be configured from 12 - 25 Watt in the 15 Watt U-models and maybe even higher in the 25 Watt models that will come later.
The performance should be slightly above a AMD Radeon RX Vega 10 integrated GPU in the Ryzen 7 3000 series processors. e.g. Intel showed a Intel Iris Plus G7 against a Ryzen 7 3700U both configured at 25 Watt TDP and the Ice Lake GPU was able to beat the Vega 10 slightly in all games. Compared to the previous generation, Intel talks about a 2x performance improvement but wont specify the exact model. All in all the GPU should be positioned in the entry level of dedicated GPUs (Nvidia GeForce MX150 level?) and therefore most suited for less demanding games like Fortnite, Rainbow 6 Siege, or Rocket League at reduced details. The theoretical performance of the Chip is specified with 1.12 TFLOPS (FP32) and 2.25 TFLOPS (FP16) when running at 1.1 GHz.
Compared to the older Gen.9 graphics (e.g., UHD Graphics 620 in Whiskey Lake), Gen.11 is using a wider architecture and also has 3 MB dedicated L3 cache near the GPU.
A special new feature of the Gen11 graphics card is the new Variable Rate Shading (VRS) support. With it game designers can decide where to spend shading time and e.g. shade object in the background or behind fog with less resolution (up to using only one source for a 4x4 block). With this technique early results show up to 1.3x performance in Unreal Engine POC and 1.2x speedup in Civ 6. Up to now VRS is only supported by the new Nvidia Turing architecture (GTX 1650 and up).
Another improved hardware piece is the integrated video de- and encoder that was improved significantly according to Intel. They did not specify any more details, but the previous generation was able to decode VP9 and H.265/HEVC in Main10 profile with 10 bit color depth using the dedicated hardware.
The Iris Plus G7 supports three display pipes that can each output 5K60 signals (via DisplayPort 1.4 HBR3 or HDMI 2.0b). Combining two pipes, the chip is capable to output 8k content.
The Ice Lake SoCs and therefore the integrated GPU are manufactured in the modern 10nm process at Intel that should be comparable to the 7nm process of TSMC.
NVIDIA GeForce MX230

Intel Iris Plus Graphics G7 (Ice Lake 64 EU)

Gen. 11 Series

| | | |
| --- | --- | --- |
| GeForce MX250 | 384 @ 1.52 - 1.58 GHz | 64 Bit @ 7000 MHz |
| GeForce MX230 | 256 @ 1.52 - 1.53 GHz | 64 Bit @ 7000 MHz |

Codename
N17S-G0
Ice Lake G7 Gen. 11
Architecture
Pascal
Gen. 11 Ice Lake
Pipelines
256 - unified
64 - unified
Core Speed
1519 - 1531 (Boost) MHz
300 - 1100 (Boost) MHz
Memory Speed
7000 MHz
Memory Bus Width
64 Bit
Memory Type
GDDR5
DDR4
Max. Amount of Memory
4 GB
Shared Memory
no
yes
API
DirectX 12_1, Shader 5.0, OpenGL 4.5
DirectX 12_1, OpenGL 4.5
Transistors
1.8 Billion
technology
14 nm
10 nm
Features
Vulcan 1.1, GPU Boost 3.0, Optimus, PhysX, CUDA, GeForce Experience, GameWorks
QuickSync
Notebook Size
medium sized
Date of Announcement
20.02.2019
28.05.2019
Link to Manufacturer Page
https://www.geforce.com/hardware/noteboo...
Power Consumption
12-25 Watt
Benchmarks
Performance Rating
- 3DMark 11 + Fire Strike + Time Spy
- GeForce MX230