Intel Core i7-11700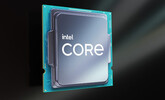 The Intel Core i7-11700 is a high-end desktop CPU based on the Rocket Lake architecture. The CPU offers 8 cores and 16 threads clocked at 2.5 - 4.9 GHz. The TDP is rated at 65 Watt (PL1, power limit sustained load) but the PL2 is set to around 224 Watt for short term boosts (up to 56 seconds).
The Sunny Cove processor cores (known from the Ice Lake mobile CPUs) offer larger caches and an improved IPC (up to 19%). Furthermore, the chip also includes (partly) integrated WiFi 6E and Thunderbolt 4. The platform supports PCIe 4.0 and Intel DL Boost for AI acceleration.
The faster Rocket Lake-S CPUs also integrate a new Intel UHD Graphics 750 that is based on the current Intel Xe architecture (e.g. mobile Tiger Lake).
The CPU is manufactured on the old 14 nm process like the Comet Lake predecessors.
Series
Intel Rocket Lake
Codename
Rocket Lake

Series: Rocket Lake Rocket Lake

Clock Rate
2500 - 4900 MHz
Level 1 Cache
640 KB
Level 2 Cache
4 MB
Level 3 Cache
16 MB
Number of Cores / Threads
8 / 16
Power Consumption (TDP = Thermal Design Power)
65 Watt
Manufacturing Technology
14 nm
Die Size
276 mm2
Max. Temperature
100 °C
Socket
LGA1200
Features
DDR4-3200 RAM, PCIe 4, 8 GT/s bus, DL Boost, GNA, vPro, MMX, SSE, SSE2, SSE3, SSSE3, SSE4.1, SSE4.2, AVX, AVX2, AVX-512, BMI2, ABM, FMA, ADX, VMX, SMX, SMEP, SMAP, MPX, EIST, TM1, TM2, HT, Turbo, SST, AES-NI, RDRAND, RDSEED, SHA
GPU
Intel UHD Graphics 750 (Alder Lake) (350 - 1300 MHz)
64 Bit
64 Bit support
Architecture
x86
Announcement Date
11/16/2021
Product Link (external)
ark.intel.com
Benchmarks
Performance Rating
- CB R15 + R20 + 7-Zip + X265 + Blender + 3DM11 CPU