Intel Core i9-10910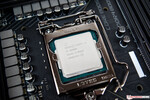 The Intel Core i9-10910 is a high-end processor for desktops with ten cores based on the Comet Lake architecture (CML-S, 4th generation of Skylake). The processor clocks at between 3.6 and 5.0 GHz (all 10 cores up to 4.6 GHz) and can execute up to twenty threads simultaneously thanks to Hyper-Threading. The 5.0 GHz can be only achieved below 70°C core temperature (Thermal Velocity Boost of 100 MHz).
The processor is still manufactured in the old 14nm (14nm++) process. Compared to the predecessor, the Core i9-9900K, the 10900K offers increased clock speeds and two more cores.
The Comet Lake architecture is similar to Coffee Lake and offers the same features and is produced in the same 14nm process. Other than the improved clock rates, the memory controller now also supports faster DDR4-2933 RAM. More information on Comet Lake and all the models and articles on it can be found here.
Performance
Thanks to the high Turbo Boost, the CPU is the fastest gaming CPU available at the time of announcement. Using all cores, the i9 however is slower than the top Ryzen CPUs (like the Ryzen 9 3950X) which offer more cores.
Graphics
The integrated Intel UHD Graphics 630 iGPU is supposed to offer a similar performance as the UHD630 in the Core i7-9900K. As a low-end solution it will only run current games smoothly at reduced details - if at all.
Power Consumption
Intel specifies the TDP with 125 Watts (PL1) but under full load up to 250 Watt are consumed (PL2). In default mode these 250 Watt and therefore high clock speeds can be maintained for up to 56 seconds, however, all boards offer the option to alter these settings.
Series
Intel Comet Lake
Codename
Comet Lake-S

Series: Comet Lake Comet Lake-S

Clock Rate
3600 - 5000 MHz
Level 1 Cache
640 KB
Level 2 Cache
2.5 MB
Level 3 Cache
20 MB
Number of Cores / Threads
10 / 20
Power Consumption (TDP = Thermal Design Power)
125 Watt
Manufacturing Technology
14 nm
Max. Temperature
100 °C
Socket
LGA 1200
Features
TVB, HyperThreading, AVX, AVX2, FMA3, Quick Sync, Virtualization
GPU
Intel UHD Graphics 630
64 Bit
64 Bit support
Architecture
x86
Starting Price
$488 U.S.
Announcement Date
05/20/2020
Benchmarks
Performance Rating
- CB R15 + R20 + 7-Zip + X265 + Blender + 3DM11 CPU