MediaTek Dimensity 9000+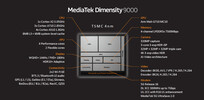 The MediaTek Dimensity 9000+ (or 9000 Plus) is a high-end SoC with an integrated 5G modem. It includes one fast Cortex-X2 core with up to 3 GHz, three more A710 cores with up to 2.85 GHz and four power efficiency cores (Cortex-A510) with upto 1.8 GHz. The SoC is manufactured in the new 4nm process at TSMC. All CPU cores can together use 8 MB of level 3 cache and 6 MB of System Level Cache (SLC). Compared to the similar Dimensity 9000, the 9000 Plus offers a 200 MHz higher clocked X2 core.
The CPU Performance of the 9000+ is very good thanks to the big cores and high clock speeds. At the time of announcement, it should be the fastest SoC for Android phones and depending on the workload even best the Apple A15 of the iPhone 13 (e.g. Geekbench in Multi-Core tests). The Snapdragon 8+ Gen 1 (in the ROG Phone 6 Pro e.g.) should slightly behind the Dimensity 9000+ in single and multi-threaded tests.
The integrated quad channel memory controller supports LPDDR5X with 7500 Mbps. The integrated GPU is an ARM Mali-G710 MC10 (10 of the 16 possible cores) and should be 10% faster compared to the same iGPU in the Dimensity 9000 (thanks to higher clocks).
The Dimensity 9000+ is produced in the state of the art 4nm process at TSMC.
Series
Mediatek
Codename
Cortex-X2 / A710 / A510

Series: Cortex-X2 / A710 / A510

| | | | |
| --- | --- | --- | --- |
| » MediaTek Dimensity 9000+ | 1.8 - 3.2 GHz | 8 / 8 | 14 MB Cortex-X2 / A710 / A510 |
| MediaTek Dimensity 9000 | 1.8 - 3.05 GHz | 8 / 8 | 14 MB Cortex-X2 / A710 / A510 |

Clock Rate
1800 - 3200 MHz
Level 3 Cache
14 MB
Number of Cores / Threads
8 / 8
Manufacturing Technology
4 nm
Features
1x ARM Cortex-X2 (3.05 GHz), 3x A710 (2.85 GHz), 4x ARM Cortex-A510 (1.8 GHz), ARM Mali-G710 MC10, APU 590, Imagiq 790, 5G Modem (3GPP Release-16), LPDDR5X 7500 Mbps
GPU
ARM Mali-G710 MP10
64 Bit
64 Bit support
Architecture
ARM
Announcement Date
09/09/2022
Product Link (external)
Mediatek Dimensity 9000+
Benchmarks
Geekbench 5.4 - Geekbench 5.1 - 5.4 64 Bit Single-Core