NXP i.MX 6SLL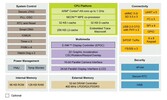 The NXP i.MX 6SLL or i.MX6SLL (i.MX 6 Series, MCIMX6V7DVN10AB Part Number) is a single core processor for e-readers. It integrates a single ARM Cortex-A9 processor core clocked at up to 1 GHz and a 2D graphics accelerator called Pixel Processor PXP (including E-INK display controller EPDC with support of up to 2332x1650 and 5-bit greyscale). The integrated memory controller supports up to 400 MHz LPDDR2 or LPDDR3 (32-bit interface). Flash memory can be attached using eMMC 5.0 or SD 3.0 (three connections available). Furthermore, the SoC supports 2x USB 2.0 OTH with PHY. The chip is pin-compatible with the i.MX 6SoloLite which features an additional Vivante GC320 graphics card. WiFi, Bluetooth, GPS or other peripherals have to be connected with external chips.
Series
Codename
Cortex-A9
Series: Cortex-A9
Clock Rate
1000 MHz
Level 1 Cache
64 KB
Level 2 Cache
256 KB
Number of Cores / Threads
1 / 1
Manufacturing Technology
40 nm
Features
32-Bit DRAM Controller 400 MHz LPDDR2/LPDDR3, E-INK Display Controller, 2D Graphics Acceleration, eMMC 5.0, USB 2.0 OTG
GPU
NXP PXP
Announcement Date
01/01/2011
Product Link (external)
i.MX 6SLL
Benchmarks
Sunspider - 1.0 Total Score *

...