AllWinner A13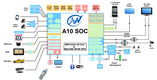 The AllWinner A13 is a cheap SoC for smartphones and tablets of 2012. Compared to the Allwinner A10, the A13 is acost reduced version without HDMI or SATA support. It contains a single 1.0 GHz ARM Cortex A8 core (ARMv7), a ARM Mali 400 (single core) graphics card and a video processing unit. It is produced in 55nm and mostly used for systems using Android or Linux.
Series
Codename
Cortex A8
Series: Cortex A8
Clock Rate
1000 MHz
Number of Cores / Threads
1 / 1
Manufacturing Technology
55 nm
Announcement Date
01/01/2010
Product Link (external)
A13
Benchmarks
Geekbench 2 - 32 Bit - Stream

...