Texas Instruments OMAP 4460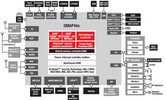 The OMAP 4460 is a fourth generation SoC (System on Chip) developed by Texas Instruments (TI) for use in mobile phones and tablets. The 45 nm chip includes dual ARM Cortex-A9 CPU cores running at 1.2 GHz up to 1.5 GHz on an ARM v7 instruction set and ARM NEON SIMD (Single instruction, multiple data) engine.
The SoC integrates an SGX540 GPU from PowerVR clocked at 384 MHz, which can utilize the same 400 MHz dual-channel LPDDR2 memory controller as the two core processors. Compared to the OMAP 4430, the 4460 is clocked higher on both the CPU and GPU.
The OMAP 4460 is found in a small number of tablets and smartphones, most notably the Samsung Galaxy Nexus and the Amazon Kindle Fire HD 7. In terms of raw processing and GPU power, the SoC is more in line with the Nvidia Tegra 2 than the Tegra 3. The integrated SGX540 is an older generation of graphics that has been largely superceded by the much more powerful SGX543 as found in the third generation iPad.
Series
Codename
Cortex A9

Series: Cortex A9

Clock Rate
1200 MHz
Level 1 Cache
1 MB
Number of Cores / Threads
2 / 2
Power Consumption (TDP = Thermal Design Power)
0.6 Watt
Manufacturing Technology
45 nm
Features
Dual Channel LPDDR 400MHz Memory Controller, IVA 3 Multimedia Accelerator, PowerVR SGX 540 Graphics Core, Image Signal Processor
Architecture
ARM
Announcement Date
09/01/2011
Benchmarks
Geekbench 3 - Geekbench 3 32 Bit Multi-Core