Apple A8X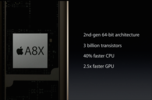 The Apple A8X is a high-end ARM SoC (System on a Chip) introduced in October 2014 alongside the iPad Air 2. The three CPU cores are clocked slightly higher than the two inside the Apple A8 (+100 MHz). Apple claims a 40% improvement over the 1.3 GHz Apple A7 compared to just 20% from the A8. Furthermore, the A8X integrates a much more powerful GPU (2x 4-core PowerVR Series 6XT (Rogue) GXA6850) as well as a 128-bit LPDDR3 memory controller.
Architecture
With Cyclone 2, Apple has managed to improve the already high performance-per-clock of the original Cyclone core (Apple A7) by another 10 to 15 percent. Neither Qualcomm's Krait nor ARM's Cortex-A57 can compete with the resulting IPC. The exact design changes have not been revealed, but we would expect enlarged caches and registers as well as an optimized branch prediction. As an ARMv8 architecture, Cyclone 2 is 64-bit capable.
Performance
Compared to the previous Apple A7, the A8X offers about 20 - 70 percent more performance. Especially the multi-thread performance has been significantly improved thanks to the third CPU core, whereas the single-thread power is just slightly higher (~20 percent). According to Geekbench 3 scores, the A8X is the fastest mobile ARM-SoC as of late 2014. However, the chip clearly benefits from the 64-bit support in the iOS version of the benchmark. Without this advantage, Nvidia's Tegra K1 (Denver) dual-core is still somewhat faster in single-thread software (but slower in multi-thread tests).
Graphics
In contrast to previous speculations, the A8X integrates an 8-cluster PowerVR Series 6 (Rogue) GXA6850 consisting of two GX6450 GPUs (2x 4 clusters) instead of a single GX6650 (6 clusters). The name GXA6850 has been created by Anandtech, the design may also be called a GX6450MP2.
Each cluster offers four FP16 and two FP32 ALUs, leading to a compute power of about 230 GFLOPS FP32 at 450 MHz (clock rate estimated). The GXA6850 does not only beat the Qualcomm Adreno 420 (Snapdragon 805), but also the Nvidia Tegra K1 by a small margin. Thus, the GXA6850 is one of the fastest tablet GPUs as of 2014 and can handle even the most demanding mobile games in high resolutions. Among others, the GPU supports OpenGL 3.x/4.x, OpenGL ES 3.0 as well as DirectX 10.
Power Consumption
In contrast to previous Apple SoCs, the A8 und A8X are manufactured by TSMC instead of Samsung. Using a brand-new 20 nm process, the SoC consists of a whopping 3 billion transistors. Power consumption should be similar to competing high-end SoCs by Qualcomm or Samsung.
Series
Apple
Codename
Cyclone 2

Series: Cyclone 2

| | | | |
| --- | --- | --- | --- |
| » Apple A8X | 1.5 GHz | 3 / 3 | 4 MB Cyclone 2 |
| Apple A8 | 1.4 GHz | 2 / 2 | 4 MB Cyclone 2 |

Clock Rate
1500 MHz
Level 1 Cache
384 KB
Level 2 Cache
2 MB
Level 3 Cache
4 MB
Number of Cores / Threads
3 / 3
Transistor Count
3000 Million
Manufacturing Technology
20 nm
Die Size
128 mm2
Features
ARMv8 Instruction Set, PowerVR GXA6850 (2x 4 Cluster Rogue), 128 Bit LPDDR3 Memory Controller
GPU
PowerVR GX6650
64 Bit
64 Bit support
Architecture
ARM
Announcement Date
10/16/2014
Benchmarks
3DMark - 3DMark Ice Storm Unlimited Physics