AllWinner A10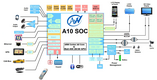 The AllWinner A10 is a cheap SoC for smartphones and tablets of 2012. It contains a 1.2 GHz ARM Cortex A8 core (ARMv7), a ARM Mali 400 (single core) graphics card and a video processing unit. It is produced in 55nm and mostly used for systems using Android or Linux.
Specifications (from Wikipedia):
Video Processing Unit
HD Video Decoding (Super HD 2160P/3D Film)
HD Video Encoding (H.264 High Profile)
Support encoding in H.264 format
Digital processing Unit
Multi-channel HD displays
Built-in HDMI
Memory
Connectivity
Storage and boot devices
Series
Codename
Cortex A8
Series: Cortex A8
Clock Rate
1200 MHz
Number of Cores / Threads
1 / 1
Manufacturing Technology
55 nm
Announcement Date
01/01/2010
Product Link (external)
A10
Benchmarks
Geekbench 2 - 32 Bit - Stream

...