NVIDIA GeForce GTX 1060 (Desktop) vs NVIDIA GeForce GTX 1080 Ti (Desktop) vs NVIDIA GeForce GTX 1050 (Desktop)
NVIDIA GeForce GTX 1060 (Desktop)
► remove from comparison

The Nvidia GeForce GTX 1060 is a graphics card for desktops and high end laptops (upcoming, see our article for the mobile GTX 1060 for benchmarks and specs). It is based on the Pascal architecture and manufactured in 16 nm FinFET at TSMC. The GPU is be based on the smaller GP106 chip. In laptops it has the codename N17E-G1 and will be the successor to the old GTX 970M (predecessor). The laptop version should be launched in August 2016. The desktop version is already out.
The performance of the 6 GB version is on par with an older GeForce GTX 980 (desktop and laptop). Therefore, 1080p gaming at highest detail is currently the best use case for the card. A comprehensive review of the desktop GeForce GTX 1060 Founders Edition with 6 GB GDDR5 can be found here. Beware, the upcoming 3 GB desktop variant should feature 128 shader less but clocked slightly higher. Still the performance should be definately slower than the 6 GB version.
NVIDIA GeForce GTX 1080 Ti (Desktop)
► remove from comparison

The Nvidia GeForce GTX 1080 Ti is the fastest desktop consumer graphics card (beginning 2017). It is based on the same GP107 chip as the Titan X but with slightly higher clock speeds and a different memory configuration. It offers one memory controller less (and 11 instead of 12 GB), but the GDDR5X memory is faster clocked (11 GHz) leading to a comparable memory bandwidth. Due to the higher boost clock, the 1080Ti should be around 5 % faster compared to the Pascal Titan X and about 35 % faster compared to the GTX 1080. The TDP is equal to the Titan X with 250 Watt. A new cooler of the Founders Edition should be more efficient and quieter.
NVIDIA GeForce GTX 1050 (Desktop)
► remove from comparison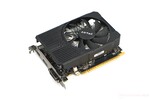 The Nvidia GeForce GTX 1050 is an entry level graphics card for desktops based on the Pascal architecture. It uses the same GP107 chip as the GTX 1050 Ti, but with only 640 instead of 768 shaders. The chip is manufactured at Samsung in 14 nm (opposed to the 16 nm TSCM based Pascal chips of the 1060 and up). The performance and specs should be similar to the GTX 1050 laptop version, that will be released later (early 2017). Compared to the faster GTX 1050 Ti, the 1050 offers less shaders (640 instead of 768) and only 2 GB of GDDR5 (instead of the 4 GB of the 1050 Ti).
Gaming benchmarks by Nvidia state that the GTX 1050 is about 30% faster on average than the Radeon RX 460 with 2 GB VRAM. The 4 GB version of the RX 460 should be about 10% slower and the older GTX 950 should reach a similar performance level as the new GTX 1050. Therefore, the GTX 1050 should be ideal for 1080p gaming with high detail settings (but not max settings).
| | | | |
| --- | --- | --- | --- |
| | NVIDIA GeForce GTX 1060 (Desktop) | NVIDIA GeForce GTX 1080 Ti (Desktop) | NVIDIA GeForce GTX 1050 (Desktop) |
| GeForce GTX 1000 Series | | | |
| Codename | GP106 | GP102 | N17P-G1 |
| Architecture | Pascal | Pascal | Pascal |
| Pipelines | 1280 - unified | 3584 - unified | 640 - unified |
| Core Speed | 1506 - 1708 (Boost) MHz | 1481 - 1600 (Boost) MHz | 1354 - 1455 (Boost) MHz |
| Memory Speed | 8000 MHz | 11000 MHz | 7008 MHz |
| Memory Bus Width | 192 Bit | 352 Bit | 128 Bit |
| Memory Type | GDDR5 | GDDR5X | GDDR5 |
| Max. Amount of Memory | 6.144 MB | 11 GB | 2048 MB |
| Shared Memory | no | no | no |
| API | DirectX 12_1, OpenGL 4.5 | DirectX 12_1, OpenGL 4.5 / Vulkan | DirectX 12_1, OpenGL 4.5 |
| Power Consumption | 120 Watt | 250 Watt | |
| Transistors | 4.4 Billion | 12 Billion | |
| technology | 16 nm | 16 nm | 14 nm |
| Features | Multi-Projection, VR Ready, G-SYNC, Vulkan, Multi Monitor | DP 1.4, HDMI 2.0b, HDCP 2.2, CUDA, PCIe 3.0, GPU Boost 3.0, G-SYNC | Multi-Projection, VR Ready, G-SYNC, Vulkan, Multi Monitor |
| Date of Announcement | 19.07.2016 | 28.02.2017 | 25.10.2016 |
| Link to Manufacturer Page | http://www.nvidia.de/graphics-cards/gefo... | | |
Benchmarks
Performance Rating
- 3DMark 11 + Fire Strike + Time Spy
- GeForce GTX 1060 (Desktop)