AMD Ryzen 5 1400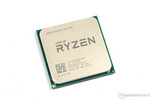 The AMD Ryzen 5 1400 is a desktop processor with 4 cores and Hyper Threading (SMT). It is the slowest Ryzen 5 quad-core processor in the beginning of 2017, but the 65-watt TDP is similar to the hexa-core Ryzen 5 1600.
The Ryzen 5 1400 has a base frequency of 3.2 GHz and can reach up to 3.4 GHz via Turbo (up to 2 cores) or 3.45 GHz via XFR (also up to 2 cores). The maximum clock for 3-4 cores is 3.2 GHz.
The processor based on the Zen architecture is not fully convincing in games. AMD blames missing optimizations from the gaming producers.
Series
AMD Ryzen 5
Codename
Zen

Series: Ryzen 5 Zen

Clock Rate
3200 - 3400 MHz
Level 1 Cache
384 KB
Level 2 Cache
2 MB
Level 3 Cache
8 MB
Number of Cores / Threads
4 / 8
Power Consumption (TDP = Thermal Design Power)
65 Watt
Transistor Count
4800 Million
Manufacturing Technology
14 nm
Socket
AM4
Features
XFR, FMA3, SSE 4.2, AVX2, SMT
64 Bit
64 Bit support
Architecture
x86
Announcement Date
04/11/2017
Benchmarks
Performance Rating
- CB R15 + R20 + 7-Zip + X265 + Blender + 3DM11 CPU