Intel Core i7-3615QM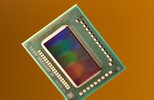 The Intel Core i7-3615QM is a fast quad-core processor for laptops based on the Ivy Bridge architecture. Due to Hyperthreading, the four cores can handle up to eight threads in parallel leading to better utilization of the CPU. Each core offers a base speed of 2.3 GHz but can dynamically increase clock rates with Turbo Boost up to 3.1 GHz (for 4 active cores), 3.2 GHz (for 2 active cores) and 3.3 GHz (for 1 active core).
Ivy Bridge is an enhanced die shrink of the Sandy Bridge architecture with improvements on both GPU and CPU performance. The CPUs are produced in 22nm (versus 32nm Sandy Bridge CPUs) and are the first to introduce 3D transistors for increased energy efficiency when compared to similarly clocked Sandy Bridge processors. Other new features are integrated PCI Express 3.0 and DDR3(L)-1600 support.
The performance of the Core i7-3615QM is slightly above a similarly clocked Sandy Bridge processor due to the architectural improvements. As a result, overall performance is similar to the former fastest model, the Core i7-2920XM.
The integrated Intel HD Graphics 4000 offers 16 Execution Units (EUs) clocked at 650 MHz up to 1200 MHz with Turbo Boost, making it one of the faster variants.
As with most quad-core Ivy Bridge models, the Core i7-3615QM is specified at a TDP of 45 Watts including graphics card and memory controller. Therefore, the CPU is well-suited for laptops 15-inches or greater.
Series
Intel Core i7
Codename
Ivy Bridge

Series: Core i7 Ivy Bridge

Clock Rate
2300 - 3300 MHz
Level 1 Cache
256 KB
Level 2 Cache
1 MB
Level 3 Cache
6 MB
Number of Cores / Threads
4 / 8
Power Consumption (TDP = Thermal Design Power)
45 Watt
Transistor Count
1400 Million
Manufacturing Technology
22 nm
Die Size
160 mm2
Max. Temperature
105 °C
Socket
FCBGA1224, FCPGA988
Features
HD Graphics 4000 (650-1200MHz), DDR3(L)-1600 Memory Controller, HyperThreading, AVX, Quick Sync, Virtualization
GPU
Intel HD Graphics 4000 (650 - 1200 MHz)
64 Bit
64 Bit support
Architecture
x86
Starting Price
$378 U.S.
Announcement Date
04/23/2012
Product Link (external)
Intel Core i7 3615QM
Benchmarks
Cinebench R11.5 - Cinebench R11.5 CPU Multi 64 Bit
min: 5.52 avg: 5.8 median:
5.5 (8%)
max: 6.26 Points