AMD Ryzen 3 1200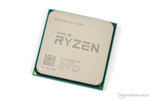 The AMD Ryzen 3 1200 (not to be confused with the E1-1200 from 2012) is a quad-core desktop processor with no SMT support (4 threads only). As of mid-2017, the Ryzen 3 is the slowest quad-core desktop Ryzen CPU.
Performance
The average 1200 in our database fails to outgun the Core i7-8550U, a quad-core laptop CPU, in multi-thread benchmarks. In other words, this is a rather unimpressive chip, as of mid 2022, and the unlocked multiplier isn't enough to sweeten the deal. Find out more in our full review.
Power consumption
This Ryzen 3 series chip has a default TDP, also known as the long-term power limit, of 65 W that it is very likely to abide by, considering the modest clock speeds and the absence of an integrated GPU.
The R3 1200 is built with a 14 nm process for really low, as of mid 2023, energy efficiency.
| | |
| --- | --- |
| Series | AMD Ryzen 3 |
| Codename | Summit Ridge (Zen) |
| Clock Rate | 3100 - 3400 MHz |
| Level 1 Cache | 384 KB |
| Level 2 Cache | 2 MB |
| Level 3 Cache | 8 MB |
| Number of Cores / Threads | 4 / 4 |
| Power Consumption (TDP = Thermal Design Power) | 65 Watt |
| Transistor Count | 4800 Million |
| Manufacturing Technology | 14 nm |
| Max. Temperature | 95 °C |
| Socket | AM4 |
| Features | DDR4-2667 RAM, PCIe 3, MMX (+), SSE, SSE2, SSE3, SSSE3, SSE4.1, SSE4.2, SSE4A, AES, AVX, AVX2, FMA3, SHA |
| 64 Bit | 64 Bit support |
| Architecture | x86 |
| Announcement Date | 07/28/2017 |
| Product Link (external) | www.amd.com |
Benchmarks
Performance Rating
- CB R15 + R20 + 7-Zip + X265 + Blender + 3DM11 CPU