Intel Core i5-1135G7 vs Intel Core i7-1195G7 vs Intel Core i5-1155G7
Intel Core i5-1135G7
► remove from comparison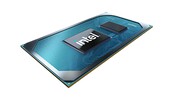 The Intel Core i5-1135G7 is a quad-core, mid-range SoC designed to be used in ultra-light laptops. The Tiger Lake-UP3 processor was introduced in September 2020. It features four Willow Cove CPU cores running at 2.4 GHz (base clock speed @ 28 W TDP) Boosting up to 4.2 GHz (1-core Boost). The all-core Boost clock speed sits at 3.8 GHz. This is a Hyper-Threading-enabled CPU, allowing for up to 8 concurrent processing threads.
Architecture
A sizeable performance-per-MHz boost is one of the multiple strengths of Tiger Lake compared to the older Ice Lake and Comet Lake product families. Core i5-1135G7 is compatible with dual-channel DDR4-3200 or quad-channel LPDDR4x-4267 RAM, supports PCI-Express 4.0 (4 lanes) and is capable of HW-accelerating AI workloads. Thunderbolt 4, USB 4 and Wi-Fi 6 support is partially baked into the chip. Four PCI-Express 4.0 lanes allow for read/write rates of up to 7.9 GB/s, provided a suitably fast NVMe SSD is used.
The i5 is manufactured on Intel's second-gen 10 nm process marketed as SuperFin that is supposedly comparable to TSMC's 7 nm process that Ryzen 4000 series laptop-grade processors are manufactured on. Both the CPU cores and the iGPU enjoy access to 8 MB of L3 cache. The higher-end Core i7-11x5 parts are notable for their larger Level 3 cache (12 MB versus 8 MB), faster iGPUs and higher clock speeds. Core i5-1135G7 is supposed to be permanently soldered to the motherboard (BGA1449 socket interface) and is thus not user-replaceable.
Performance
The i5's long-term Boost sustainability will depend heavily on how high the Power Limits and how good the cooling solution of a laptop are. That being said, the average Core i5-1135G7 in our database is just as fast as the Core i5-10400H, Core i5-8300H, and Ryzen 7 3700U in multi-core benchmarks. The CPU acts even nicer when under single-core load, reaching similar heights as the Ryzen 7 5600X and Core i7-8700K. The performance may not be ground-breaking, but it's still on the sunnier side. This Core i5 will have no difficulty coping with some light gaming and video editing on the go, and the more mundane tasks including the usual web browsing and spreadsheet editing will pose no problem, either.
Graphics
The 80 EU Iris Xe Graphics G7 is based on Intel's Gen 12 architecture. The iGPU is somewhat faster than the older Iris Plus G7 (Ice Lake) and much faster than the UHD 620 (Comet Lake). The 80 EUs are clocked at 400 MHz to 1,300 MHz. This graphics adapter can drive up to 4 monitors in resolutions up to SUHD [email protected] and hardware decode the AVC, HEVC, VP9 and last but not the least AV1 video streams. The iGPU's gaming performance is close to what a typical GeForce MX250 has in store; casual gamers will be happy with the Xe as it will easily handle most titles at 720p on low or medium quality settings. An important thing to keep in mind is that the iGPU has no video memory of its own, making fast RAM a necessity.
Power Consumption
The Core i5's 10 nm manufacturing process and low core count render it relatively energy-efficient. Just like all other Tiger Lake-UP3 processors, Core i5-1135G7 has a long-term Power Limit of 12 W to 28 W (OEMs get to set the value according to their needs). This makes the i5 a good fit for thinner, lighter systems as well as an occasional Windows tablet. The CPU's long-term performance sustainability is likely to be very poor in passively cooled setups.
Intel Core i7-1195G7
► remove from comparison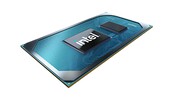 The Intel Core i7-1195G7 is a quad-core SoC from the Tiger Lake-UP3 product family designed for thin laptops and Ultrabooks that was introduced in 2021. It integrates four Willow Cove processor cores (8 threads thanks to Hyper-Threading). The base clock (minimum) depends on the configured TDP and can range from 1.3 GHz (12 Watt TDP) up to 2.9 GHz (28 W). The Turbo on one core can reach up to 5 GHz (Turbo Boost 3.0). All cores can reach up to 4.6 GHz. The i7-1195G7 is part of the Tiger Lake UP3 refresh and is the fastest CPU of the Tiger-Lake U line.
The 1195G7 integrates the Intel Iris Xe graphics adapter with 96 EUs clocked at 400 - 1400 MHz. The GPU and CPU can together use the 12 MB of L3 cache.
Furthermore, Tiger Lake SoCs supports four lanes of PCIe 4, AI hardware acceleration, and the partial integration of Thunderbolt 4/USB 4 and Wi-Fi 6E in the chip.
The chip is produced on the second-gen 10 nm Intel SuperFin process that should be comparable to the 7 nm TSMC process (e.g. Ryzen 4000 series).
The operating range of the UP3 series is specified at 12 to 28 Watt. Therefore, the processor is also suited for thin and light laptops.
Intel Core i5-1155G7
► remove from comparison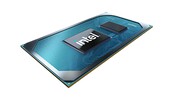 The Intel Core i5-1155G7 is a power efficient quad-core SoC for laptops and Ultrabooks based on the Tiger Lake-U generation that was announced in mid 2021 as part of the refresh. It integrates four Willow Cove processor cores (8 threads thanks to HyperThreading). The base clock speed depends on the TDP settings and ranges from 1 GHz (12 Watt TDP) up to 2.5 GHz (28 Watt). The Boost is always specified at 4.5 GHz.
Another novelty is the integrated Xe graphics card with 80 EUs based on the completely new Gen 12 architecture. It offers a significantly higher performance compared to the older Iris Plus G7 (Ice Lake).
Furthermore, Tiger Lake SoCs add PCIe 4 support (4 lanes), AI hardware acceleration, and the partial integration of Thunderbolt 4 / USB 4 and Wifi 6 in the chip.
The chip is produced in the improved 10nm SuperFin process at Intel that should be comparable to the 7nm process at TSMC (e.g. Ryzen 4000 series).
All articles on Tiger Lake can be found on our Tiger Lake architecture hub.
| | | | |
| --- | --- | --- | --- |
| Model | Intel Core i5-1135G7 | Intel Core i7-1195G7 | Intel Core i5-1155G7 |
| Series | Intel Tiger Lake | Intel Tiger Lake | Intel Tiger Lake |
| Codename | Tiger Lake UP3 | Tiger Lake UP3 | Tiger Lake UP3 |
| Series: Tiger Lake Tiger Lake UP3 | | | |
| Clock | 2400 - 4200 MHz | 2900 - 5000 MHz | 2500 - 4500 MHz |
| L1 Cache | 320 KB | 320 KB | 320 KB |
| L2 Cache | 5 MB | 5 MB | 5 MB |
| L3 Cache | 8 MB | 12 MB | 8 MB |
| Cores / Threads | 4 / 8 | 4 / 8 | 4 / 8 |
| TDP | 28 Watt | 28 Watt | 28 Watt |
| Technology | 10 nm | 10 nm | 10 nm |
| max. Temp. | 100 °C | 100 °C | 100 °C |
| Socket | BGA1449 | BGA1499 | FCBGA1449 |
| Features | DL Boost, GNA, Wi-Fi 6 (Gig+), Thunderbolt 4, DDR4-3200 / LPDDR4x-4266 | DL Boost, GNA, Wi-Fi 6 (Gig+), Thunderbolt 4, DDR4-3200 / LPDDR4x-4266 | DL Boost, GNA, Wi-Fi 6 (Gig+), Thunderbolt 4, DDR4-3200 / LPDDR4x-4266 |
| iGPU | Intel Iris Xe Graphics G7 80EUs (400 - 1300 MHz) | Intel Iris Xe Graphics G7 96EUs (400 - 1400 MHz) | Intel Iris Xe Graphics G7 80EUs (400 - 1350 MHz) |
| | | | |
| Architecture | x86 | x86 | x86 |
| Announced | | | |
| | | | |
| Manufacturer | Intel Tiger Lake i5-1135G7 | Intel Tiger Lake i7-1195G7 | Intel Tiger Lake i5-1155G7 |
Benchmarks
Performance Rating
- CB R15 + R20 + 7-Zip + X265 + Blender + 3DM11 CPU
- i5-1135G7