Tiger Lake Architecture: New CPU and GPU in 2020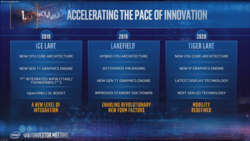 Up to now not a lot is known on the upcoming Tiger Lake chips. Intel announced at the investors day that Tiger Lake will come in 2020 as a successor to Ice Lake. It integrates a new CPU core architecture, new Xe graphics card (Gen12) and the latest display and I/O technology. Tiger Lake should show up in two mobile flavors - as a U-series for laptops (15 Watt TDP) and Y-series for fanless devices (9 Watt TDP). Both should feature four processor cores in the highest variants.

(-) * Smaller values are better. / n123 Number of benchmarks for this median value / * Approximate position
Cns
Articles about Tiger Lake
Here you can find the newest Tiger Lake articles.