Apple A9 / PowerVR GT7600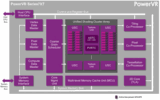 The PowerVR GT7600 from Imagination Technologies is a high-end smartphone GPU as part of the Apple A9 SoC for the iPhone 6s and 6s Plus. At the time of announcement on September 2015, it is the fastest GPU for smartphones and even bests current tablet GPUs.
Architecture
The GT7600 is part of the Series 7XT line-up and is based on a unified shader architecture with 6 clusters that integrate 384 (FP16) and 192 (FP32) ALU cores. Compared to the Series 6XT GPU in the Apple A8 and A8x, ImgTec states that the performance and efficiency of the cores have been improved. Furthermore, the GPU features support for virtualization, hardware-based security, geometry shaders, tessellation, native 10-bit YUV and ASTC LDR/HDR. DirectX 11 and OpenCL FP64 are optional features that are likely not implemented on Apple smartphones and tablets.
Performance
The PowerVR GT7600 is clearly the fastest smartphone GPU on the market as of September 2015. In all of our benchmarks, the GPU is able to beat even the fastest tablet and smartphone GPUs like the PowerVR GXA6850 in the A8x (iPad Air 2), Tegra K1 (Nvidia Shield Tablet) and Adreno 430 (various flagship smartphones). The ARM Mali-T760 MP8 (7420 Octa) in the Galaxy S6 line-up is also no match for the PowerVR GPU.
The Tegra X1 in the Shield TV console is able to beat the GT7600 in 3DMark 2013 Unlimited GPU (135%), but falls behind in GFXBench 3.0 Manhattan with 79% of the performance. Thanks to the efficient use of the GPU (e.g., IOS apps using Metal), we are expecting a graphical step up in 3D games.
Power Consumption
The PowerVR GT7600 in the Apple A9 should be very energy efficient due in part to the use of 3D transistors and an improved 14/16 nm fabrication process.
Note: The PowerVR GT7600 in the Apple A9 is not officially confirmed by Apple!
PowerVR Series 7XT Series

Codename
Rogue
Architecture
PowerVR Rogue
Pipelines
192 - unified
Shared Memory
no
API
DirectX 11_2, OpenGL 4.3, ES 3.x
technology
14 nm
Features
OpenGL® ES 1.x/2.0/3.x*, AEP, OpenGL 3.3*, DirectX 10_0, OpenCL™ 1.2 EP*, (DirectX 11_2, OpenGL 4.3*, OpenCL 1.2 FP*)
Date of Announcement
09.09.2015
Link to Manufacturer Page
http://imgtec.com/powervr/graphics/serie...
CPU in A9 / PowerVR GT7600
GPU Base Speed
GPU Boost / Turbo
Apple A9
2 x 1800 MHz
? MHz
? MHz
Benchmarks
3DMark - 3DMark Ice Storm Unlimited Graphics
min: 41615 avg: 43251 median:
43372.5 (5%)
max: 44645 Points