AMD Radeon RX 570 (Desktop) vs AMD Radeon RX 540X vs AMD Radeon RX 580 (Laptop)
AMD Radeon RX 570 (Desktop)
► remove from comparison
The AMD Radeon RX 570 is a mainstream graphics card for desktop PCs. It was announced in April 2017 and is based on the Polaris 20 chip. It is a refresh of the RX 470 and uses the same chip as the RX 580 (and 580X) with less shaders. The clock speeds are specified as 1,168 - 1,244 (Boost). The VRAM is connected by a 256 Bit bus and clocks at 1,750 MHz (effective 7,000 MHz) which leads to a 224 GB/s memory bandwidth.
At launch, the performance of the Radeon RX 570 was slightly below a Nvidia GeForce GTX 1060. Therefore, the GPU is best used for 1920x1080 and high detail settings for demanding games of 2019.
The TDP of the Radeon RX 570 is specified with 120 Watts by AMD, so a single 6-pin power connector is sufficient.
AMD Radeon RX 540X
► remove from comparison

The AMD Radeon RX 540X is mobile mid-range graphics card for laptops based on the Polaris 12 chip (most likely). It is manufactured in an improved 14 nm FinFET process and technically similar to the older Radeon RX 540. The only difference so far is a 4% higher theoretical peak performance (1.25 versus 1.2 TFLOPS according to AMD). Compared to Nvidia graphics cards, the gaming performance should be between the GeForce GTX 950M and GTX 960M.
The similar named Radeon 540X (without RX) offers a smaller memory bus and therefore also a slightly reduced performance.
The features of the Radeon RX 540X are identical to the faster RX 460 and all other Polaris chips. See more details on the Polaris architecture here.
The power envelope of the faster Radeon Pro 460 is rated at 35 Watt according to the AMD blog post. Due to the slower specs, the Radeon RX 540 use slightly less.
AMD Radeon RX 580 (Laptop)
► remove from comparison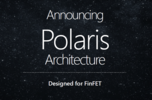 The AMD Radeon RX 580 is a high-end graphics card for laptops. It is based on the Polaris 20 chip. Compared to the Polaris 10 in the similar RX 480, the Polaris 20 is manufacted in an improved 14nm process (LPP+) for higher clock speeds and some power efficiency improvements in idle. The performance in laptops depends on the used clock speeds and should be similar to the desktop RX 470 (see for gaming benchmarks) or even RX 480.
More information on the Polaris architecture and its features can be found here.
| | | | |
| --- | --- | --- | --- |
| | AMD Radeon RX 570 (Desktop) | AMD Radeon RX 540X | AMD Radeon RX 580 (Laptop) |
| Manufacturer | AMD | AMD | AMD |
| Radeon RX 500 Series | | | |
| Codename | Polaris 20 Ellesmere | Polaris 12 | Polaris |
| Architecture | Polaris | GCN 4.0 | Polaris |
| Pipelines | 2048 - unified | 512 - unified | 2304 - unified |
| Core Speed | 1168 - 1244 (Boost) MHz | 1219 (Boost) MHz | 1077 MHz |
| Memory Speed | 7000 MHz | 6000 MHz | |
| Memory Bus Width | 256 Bit | 128 Bit | |
| Memory Type | GDDR5 | GDDR5 | GDDR5 |
| Max. Amount of Memory | 8192 MB | 4096 MB | |
| Shared Memory | no | no | no |
| DirectX | DirectX 12, Shader 6.4 | DirectX 12_0 | DirectX 12 |
| Transistors | 5700 Million | 2200 Million | |
| technology | 14 nm | 14 nm | 14 nm |
| Features | DisplayPort 1.3 HBR / 1.4 HDR Ready, HDMI 2.0b, AMD FreeSync | DisplayPort 1.3 HBR / 1.4 HDR Ready, HDMI 2.0, AMD FreeSync | |
| Date of Announcement | 18.04.2017 | 21.03.2018 | 18.04.2017 |
| Notebook Size | | large | large |
| Link to Manufacturer Page | | https://www.amd.com/de/products/graphics... | |
Benchmarks
Performance Rating
- 3DMark 11 + Fire Strike + Time Spy
- Radeon RX 570