AMD 3020e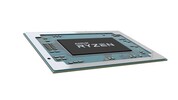 The AMD 3020e (Codename Dali) is a mobile APU that integrates two Zen cores (without SMT, therefore 2 threads) clocked at 1.2 to 2.6 GHz. The TDP is specified at 6 Watt and therefore the chip can be passively cooled. The integrated Radeon graphics card offers 3 CUs at up to 1,000 MHz (Radeon RX Vega 3). The dual channel memory controller supports DDR4-2400. The chip is manufactured on the 14 nm process and officially counted to the 3000 series of mobile processors.
AMD compares the performance of the 305e against the entry level Intel Celeron N4120. The AMD 3020e offers a significantly higher single core clock speed (+300 MHz) and a faster dual channel memory controller. Therefore, the performance should be higher in most cases, although the SMT support was removed. Still, the AMD 3020e is positioned in the low entry level of 2020 laptop processors. Therefore, the processor is only suited for low demanding applications and light multitasking.
More information on Raven Ridge can be found in our launch article.
| | |
| --- | --- |
| Series | AMD Raven Ridge (Ryzen 2000 APU) |
| Codename | Zen |
| Series: Raven Ridge (Ryzen 2000 APU) Zen | |
| Clock Rate | 1200 - 2600 MHz |
| Level 1 Cache | 192 KB |
| Level 2 Cache | 1 MB |
| Level 3 Cache | 4 MB |
| Number of Cores / Threads | 2 / 2 |
| Power Consumption (TDP = Thermal Design Power) | 6 Watt |
| Manufacturing Technology | 14 nm |
| Max. Temperature | 105 °C |
| Socket | FT5 |
| Features | XFR, FMA3, SSE 4.2, AVX2, SMT |
| GPU | AMD Radeon RX Vega 3 ( - 1000 MHz) |
| 64 Bit | 64 Bit support |
| Architecture | x86 |
| Announcement Date | 08/04/2020 |
| | |
| Product Link (external) | AMD Raven Ridge (Ryzen 2000 APU) 3020e |
Benchmarks
Performance Rating
- CB R15 + R20 + 7-Zip + X265 + Blender + 3DM11 CPU