AMD Ryzen 7 2800H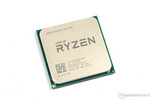 The AMD Ryzen 7 2800H is a mobile SoC that was announced late 2018. It is intended for mid-sized to big laptops and combines four Zen cores (8 threads) clocked at 3.3 (base) - 3.8 GHz (boost) with a Radeon RX Vega 11 Mobile graphics card with 11 CUs (704 Shaders). The integrated dual-channel memory controller supports up to DDR4-3200 memory.
Compared to the older Ryzen 7 2700U for slim and light laptops, the 2800H offers a higher TDP (45 Watt versus 15 Watt), higher clocked memory, a higher base clock (3.4 versus 2.2 GHz), and a faster integrated GPU.
More information on Raven Ridge can be found in our launch article.
The performance should be slightly better than the Ryzen 7 2700U due to the higher TDP and base clock speed. Especially longer loads should profit from this. Due to the high TDP (configurable from 35 - 54 Watt), the Ryzen 7 2800H is best suited for bigger laptops.
Power consumption
This Ryzen 7 has a default TDP (also known as the long-term power limit) of 45 W, a value that laptop manufacturers are free to change to anything between 35 W and 54 W with clock speeds and performance changing correspondingly. All the values are rather high, making a high-performance cooling solution with two or three fans pretty much a necessity.
The CPU is built on an old, as of late 2022, 14 nm process for subpar energy efficiency.
Series
AMD Raven Ridge (Ryzen 2000 APU)
Codename
Zen

Series: Raven Ridge (Ryzen 2000 APU) Zen

Clock Rate
3300 - 3800 MHz
Level 1 Cache
384 KB
Level 2 Cache
2 MB
Level 3 Cache
4 MB
Number of Cores / Threads
4 / 8
Power Consumption (TDP = Thermal Design Power)
35 Watt
Transistor Count
4500 Million
Manufacturing Technology
14 nm
Socket
AM4
Features
XFR, FMA3, SSE 4.2, AVX2, SMT
GPU
AMD Radeon RX Vega 11 ( - 1300 MHz)
64 Bit
64 Bit support
Architecture
x86
Announcement Date
09/17/2018
Benchmarks
- Range of benchmark values for this graphics card

- Average benchmark values for this graphics card
* Smaller numbers mean a higher performance
v1.22
log 30. 07:28:45
#0 no ids found in url (should be separated by "_") +0s ... 0s
#1 not redirecting to Ajax server +0s ... 0s
#2 did not recreate cache, as it is less than 5 days old! Created at Sun, 28 May 2023 13:55:04 +0200 +0.001s ... 0.001s
#3 composed specs +0.02s ... 0.021s
#4 did output specs +0s ... 0.021s
#5 getting avg benchmarks for device 10144 +0.002s ... 0.023s
#6 got single benchmarks 10144 +0s ... 0.023s
#7 got avg benchmarks for devices +0s ... 0.023s
#8 min, max, avg, median took s +0s ... 0.023s
#9 return log +0.024s ... 0.048s
No reviews found for this CPU (yet).