AMD 3015Ce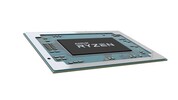 The AMD 3015Ce (Codename Dali) is a mobile APU that integrates two Zen cores (with SMT, therefore 4 threads) clocked at 1.2 to 2.3 GHz. It is the Chromebook version of the AMD 3015e with identical specifications. The integrated Radeon graphics card offers 3 CUs at up to 600 MHz (Radeon RX Vega 3). The single channel memory controller supports only DDR4-1600. The chip is manufactured in 14nm and officially counted to the 3000 series of mobile processors.
More information on Raven Ridge can be found in our launch article.
Performance
The average 3015Ce in our database is about as fast as Intel's older Y-class dual-core chips such as the m3-7Y30 are, as far as multi-thread benchmark scores are concerned. Which is not fast at all. In fact, the AMD chip is not much better than Intel Celeron N-series offerings such as the N4100.
Power consumption
This AMD APU has a 6 W default TDP (also known as the long-term power limit). TDP values that low are typical for affordable laptops as well as ultra-compact mini-PCs, mostly with no active cooling solution.
The 3015Ce is manufactured on a 14 nm process making for subpar, as of late 2022, energy efficiency.
Series
AMD Raven Ridge (Ryzen 2000 APU)
Codename
Pollock (Zen)

Series: Raven Ridge (Ryzen 2000 APU) Pollock (Zen)

| | | | |
| --- | --- | --- | --- |
| AMD 3015e | 1.2 - 2.3 GHz | 2 / 4 | 4 MB L3 |
| AMD 3015Ce « | 1.2 - 2.3 GHz | 2 / 4 | 4 MB L3 |

Clock Rate
1200 - 2300 MHz
Level 1 Cache
192 KB
Level 2 Cache
1 MB
Level 3 Cache
4 MB
Number of Cores / Threads
2 / 4
Power Consumption (TDP = Thermal Design Power)
6 Watt
Manufacturing Technology
14 nm
Max. Temperature
105 °C
Socket
FT5
Features
DDR4-1600 RAM (sin. chan.), PCIe 3, MMX, SSE, SSE2, SSE3, SSSE3, SSE4A, SSE4.1, SSE4.2, AVX, AVX2, BMI2, ABM, FMA, ADX, SMEP, SMAP, SMT, CPB, AES-NI, RDRAND, RDSEED, SHA, SME
GPU
AMD Radeon RX Vega 3 ( - 600 MHz)
64 Bit
64 Bit support
Architecture
x86
Announcement Date
08/04/2020
Product Link (external)
www.amd.com
Benchmarks
3DMark - 3DMark Ice Storm Unlimited Physics